In the Mersey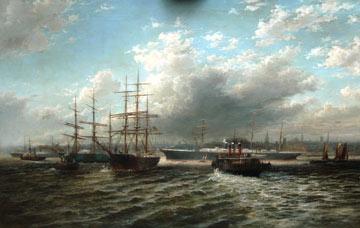 In the Mersey
As Curator of Maritime Collections (ship models and paintings) I look after an impressive paintings collection which reflects Liverpool's influential and thriving maritime history.
I am currently working on the content for next year's exhibition Titanic and Liverpool: the untold story. One of the themes will be 'Home port' which highlights Liverpool as the shipping capital of the World.
One of the objects on display for the exhibition will be Max Sinclair's 'In the Mersey' which reflects Liverpool at the height of its influence as a port in 1889. The subtle Titanic link in this painting is the 'City of New York' liner depicted near the Liverpool landing stage.
As Titanic began her maiden voyage, the City of New York ship which was docked at Southampton at the time broke her moorings and almost collided with Titanic. This was caused by the huge suction created when Titanic left the dock.
The 'City of New York' was described as the fastest and largest ship during her career as a three-funnelled passenger liner.
'In the Mersey' is currently on display in the Art and the Sea gallery.
Bye for now.