"I think them really normal things, that we all feel, are the most important"
We get to know Astles, featured artist on Museum Sessions. The online series returns with an incredible line up of Liverpool talent playing across National Museums Liverpool's iconic spaces in the city.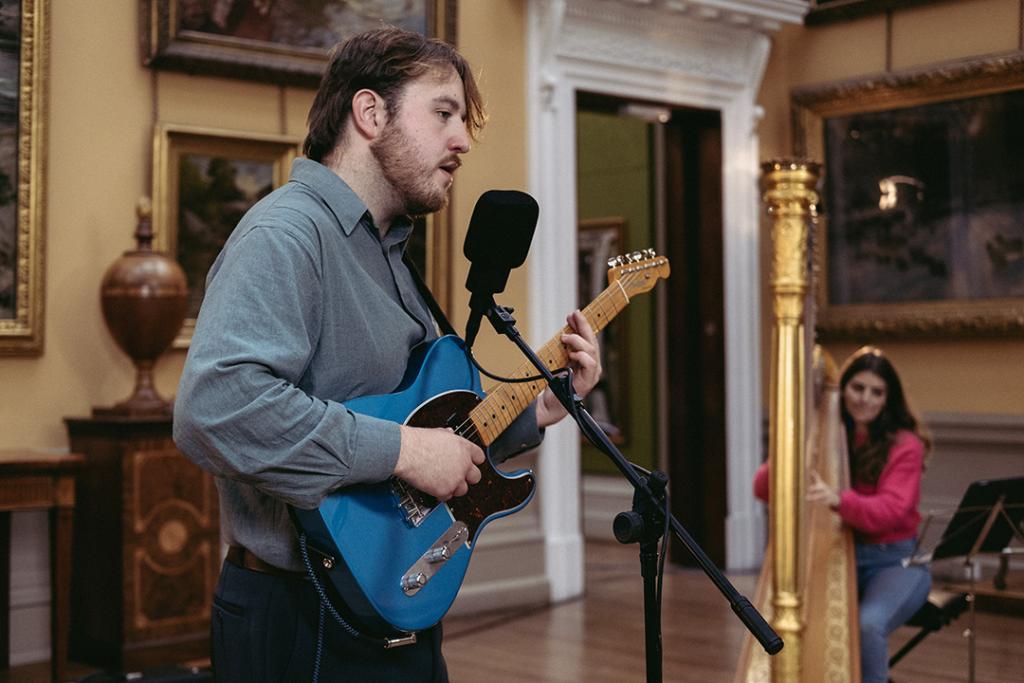 Described as 'gorgeous, lilting indie' by the NME, Astles' songwriting celebrates the refuge of music to a young lad in the North West, surrounded by football-focussed men and machismo - to which his music is the perfect antidote. Here in his own words, it's the lad himself, Dan Astles:
I try and be quite personal. I try and write songs about, sort of, quite normal things and just feelings that hit me quite hard. I think them really normal things that we all feel, and that are common, and we share, are the most important thoughts that we have. It's very personal. And it's very honest. And, yeah, that's how I describe it.
So the plan this year is to record our first debut album, which should be quite exciting. And we're going to spend a lot of time recording that and, you know, getting it ready to come out. We're lucky to have signed a publishing deal, which is going to give me, like, sort of scope to do that. But yeah, we've already started some of it and are really excited about it. And yeah, it's just nice to be able to work on music and it's kind of like a dream come true to just keep working on music and doing stuff no matter what happens we'll always have that, so, made up.
Every Christmas we do our big Blue Moon Orchestra show, which you'll see a bit of in the session. We basically play with the band, which is like drums, bass, guitar, and piano and then play with like a string, quartet section and harp and different players. We do it in a church, like St Brides Church, or the Unitarian Church in Aigburth, and it's just amazing to play with all these people and sort of celebrate the year, at the end of the year, around Christmas time when it's time to reflect. So I think these are probably my favourite memories playing in Liverpool. I also had the chance to play with the Liverpool Philharmonic Youth Orchestra once, which is amazing. And lots of the gigs, when I was sort of growing up, in places like Sound Food and Drink and Jacaranda Basement as well, which sort of like meant a lot to me in terms of like my musical journey and starting off.
"No matter what happens we'll always have that [album], so, I'm made up".
I'm very lucky to work with an amazing artist, Charlie Ann Buxton, on my cover artwork. (Who, I'm also very lucky, is my girlfriend). She is an incredible illustrator and textile design artist, who studied at Saint Martins. And, has her own scarf, and 60s inspired, brand, you should definitely check out our work, but all the ideas from our stuff for the artwork can have come from like our combined creativity. And sometimes, like Charlie might have a piece of art that kind of fits with the song already or, you know, I'll have a more specific idea that I wanted to try and I'll do like a rubbish sketch. And then she'll do something that's like, vaguely the same, but obviously a lot better. So don't ever want to take any credit for it. Because she what where it comes from is have been an amazing artist.
My favourite museum/gallery in National Museums, Liverpool, is definitely, probably the World Museum. Although doing the performance in Lady Lever, maybe changed my opinion on that! But I can't argue with all these memories I have of going to the world museum as a child and running up the stairs of my brother. And like, you know, seeing the dinosaurs and all that stuff, and then being lucky enough to sort of take my younger cousins and you know, pass their memories onto them, such a magical place. And that really reminds me of being young.
And yeah, we're very thankful that we have these beautiful places and things to do in Liverpool and that they'll give us opportunities to do performances like this as well. So thank you very much to the National Museums Liverpool. I'm really thankful to have been involved.