Museum of Liverpool wins family friendly award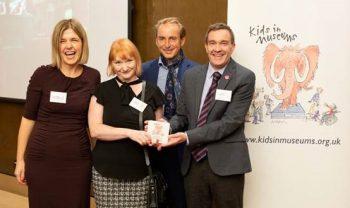 Some of the team at the Museum of Liverpool were recently invited along to the Kid's in Museums award ceremony in London. Chris Kerfoot, Education Team Leader takes us through the nomination process and the excitement of the awards.
Acknowledgement can be so powerful and inspiring. Earlier this year, over 800 museums, galleries and heritage attractions across Great Britain were nominated by the public for the Family Friendly Museum Awards 2019. These annual prizes are awarded by the charity Kids in Museums.
From over 800 nominations, fifteen venues were chosen as finalists, amongst them National Museums Liverpool had two venues nominated, World Museum and Museum of Liverpool. The finalists were invited to the Mayfair Hotel in London for the announcement of the winners.
The awards are described as the 'Baftas of the Museum World' and venues were split into categories depending upon their visitor numbers for the judging. All the finalists received certificates presented by television broadcaster and President of Kids in Museums Philip Mould. Then the winners in each category were announced.
The winner of the Large Museum category was Museum of Liverpool.
This wonderful accolade is testament to all the wonderful teams working at the Museum of Liverpool now, in the past and in the developing stages of our Museum. Together we have faced many challenges along the way but have triumphed to be regarded as one of the most family friendly museums in the country.
Thank you to all those people who nominated the Museum of Liverpool, thank you to all the judges, we are glad you enjoyed your visits and thank you for acknowledging all our hard work. We welcome everybody to our Museum and are particularly happy that families feel particular welcome. You are all very welcome to share our Museum and remember acknowledging others can be so important and heartening.