National Museums Liverpool flies the flag for Human Rights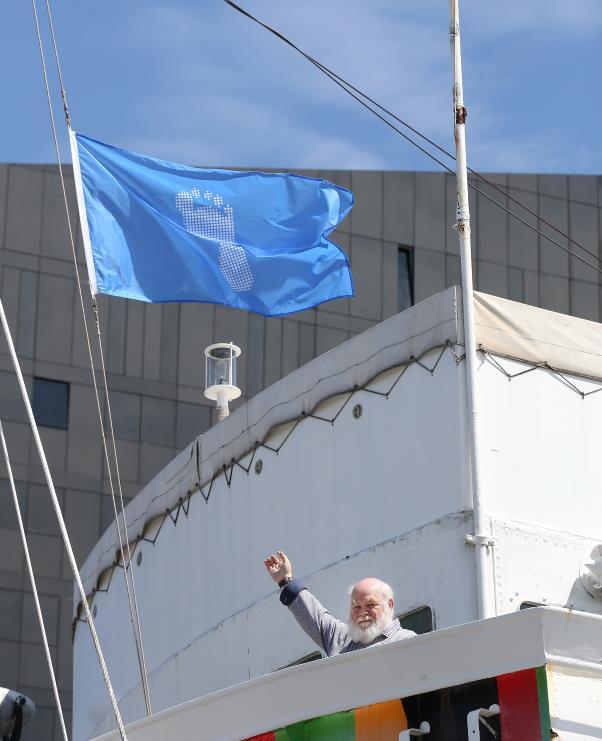 2018 marks 70 years since the UN Declaration of Human Rights. It was drafted in 1948, with no more than 50 countries getting involved – and today, we have over 190 who have co-signed this much needed legal text. And never before has this been such a vital piece of affirmation, than now in present day. When there is so much uncertainty in the world. Whether it's politics, war, and economy – we need voices to stand up for basic rights now more than ever! I was so happy to learn that National Museums Liverpool was taking part in the anniversary of the human right declaration.
This year, to mark the occasion, artist and activist Ai Weiwei designed the flag which seems simple and unassuming at first glance, but then inspecting in detail, the footprint, which has lots of tiny white dots, actually represents those who are fleeing conflict – who are often barefoot – with nothing but the shirt (if) on their backs. It was inspired by a recent trip he took to the Rohingya refugee camp - this therefore became the symbol of the human struggle.
Ai Weiwei with the flag he designed
Across National Museums Liverpool, we have an array of programmes, events and exhibitions that give the voiceless and voice, and portray images of unity, peace and demonstrate our efforts to strive for a better world. Double Fantasy in Museum of Liverpool is just one example of this. Of course this exhibition touches upon the iconic relationship between Yoko Ono and John Lennon, but it also explores their unwavering campaign for peace. We have many response areas throughout this exhibition where we invite you, the visitor to share your messages of love, peace and solidarity.
Across the waterfront is the International Slavery Museum which serves as a permanent reminder of our unforgettable past. Currently we have the exhibition Continuing the Journey which is a media collection of oral histories, photography and film, exploring issues which affect people of African heritage, born, raised or living in Liverpool's locality. It explores the struggle of Merseyside's Black community to obtain racial equality and social justice from post war Britain to the 1980s.
Chris Moseley hoisting the flag on Edmund Gardner ship
As an organisation we encourage dialogue, and discuss the importance of universal human rights. The involvement of National Museums Liverpool in #FlytheFlag70 is a small contribution to a bigger issue – but no involvement, however small it might be, is trivial.  The flag flies proudly on the Edmund Gardner ship. https://flytheflag.org.uk/