New display on Brunel's SS Great Eastern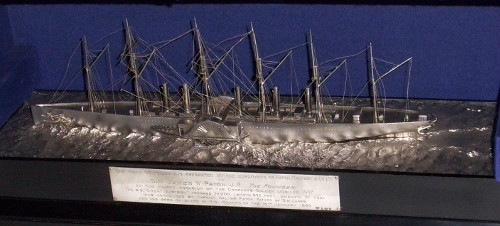 This image is copyright unknown/ expired. Please
contact us if you are the copyright holder of this image
. Isambard Kingdom Brunel's SS Great Eastern was, in her day, the largest ship ever built. A truly ambitious project from one of the most famous names in engineering history, the Great Eastern was built to provide a ship that could travel all the way to Australia or the Far East without the need to stop and take on more coal. Despite this she was only used on the transatlantic routes, travelling to Canada and North America as a passenger liner, often departing from Liverpool and playing a part in the emigrant trade. She was never that successful as a liner as she was bigger and slower than the other ships on the routes, having been built to go far further afield, her size and bulk putting her at a significant disadvantage. It was these very attributes though that led to her next role, another truly historic undertaking in engineering history much like the ship herself. In 1866 she set out from Ireland for America once more but this time instead of passengers, she was carrying an immense length of cable. Her job was to lay the first transatlantic telegraph cable and allow for the first time, instant contact with America. After her successful cable laying the Great Eastern returned once more to the Mersey and spent some time as a showboat and giant advertising hoarding for Lewis's Department Store, as is shown in the top left picture. In 1889, 125 years ago this year, she was broken up here on the River Mersey but a part of her has remained proudly displayed in Liverpool ever since.  Some fixtures and fitting were retained locally or sold at auction and in 1928 Liverpool Football Club salvaged a top mast from the ship to use as a flagpole and this still stands outside Anfield football ground today.
Silver Model of SS Great Eastern (1976.310.1) Great Eastern's many interesting and unusual local connections, alongside her role in emigration, made her the perfect choice for a new display in our
Emigration gallery
at the
Merseyside Maritime Museum
. Highlights include the ship's bell and a beautiful silver model of her. The model was made for Sir James Paton by his employees, his father had been Captain of the Great Eastern from 1860-63 and Sir James himself had been born on board. Why not come down to the Maritime Museum and learn more about this fantastic ship along with the stories of the hundreds of thousands of emigrants who passed through Liverpool in search of new and brighter prospects.