One game, one clear message needed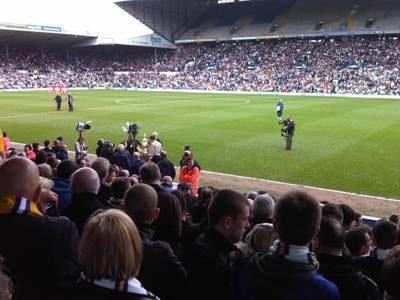 In 2008 I wrote a blog about my experiences as a Leeds United fan and how Elland Road in the early 80s was a haven of racist abuse and bigotry, usually aimed at opposing Black and Asian players and fans.  I explained how I felt uncomfortable when hundreds of people chanted something racist but at the same time I refused to leave or walk away.  I had as much right as anyone to be there, I was a Black Yorkshireman and proud of it.

I also placed a link to Kick it Out, an initiative unthinkable in the 80s, established in 1997, with the admirable aim of challenging discrimination and encouraging inclusive practices in the game.  So it is sad that in 2012 there is the need to blog about such issues, showing there is plenty of work to do.
There have been a number of articles and statements made about several recent high profile examples of allegations of racist abuse in football which to some degree have sadly overshadowed the success of various anti-racism campaigns and initiatives. Football clubs have a responsibility in the first instance to their supporters and local community. In Liverpool for example, a city with an international slavery museum, a city with the Anthony Walker Foundation and like-minded organizations fighting against racism and bigotry, what is needed, whatever the outcome of such investigations, is a statement that racism and discrimination is totally unacceptable in the modern game and that cultural misunderstandings should not be a smokescreen for unacceptable comments.
Football clubs should take the initiative, and educate British and international players on the cultural differences which might exist in their own changing rooms and what as a result is acceptable behaviour and use of language. Also, I hope that international footballing bodies also begin to look long and hard at how they deal with racist incidents on and off the pitch. A handshake does not adequately settle racist abuse between players and racist monkey chants at Black players in various European countries is not eradicated by paltry fines. Come on football; get a grip of the situation. 
Dr Richard Benjamin, Head of International Slavery Museum