Operation Hoo?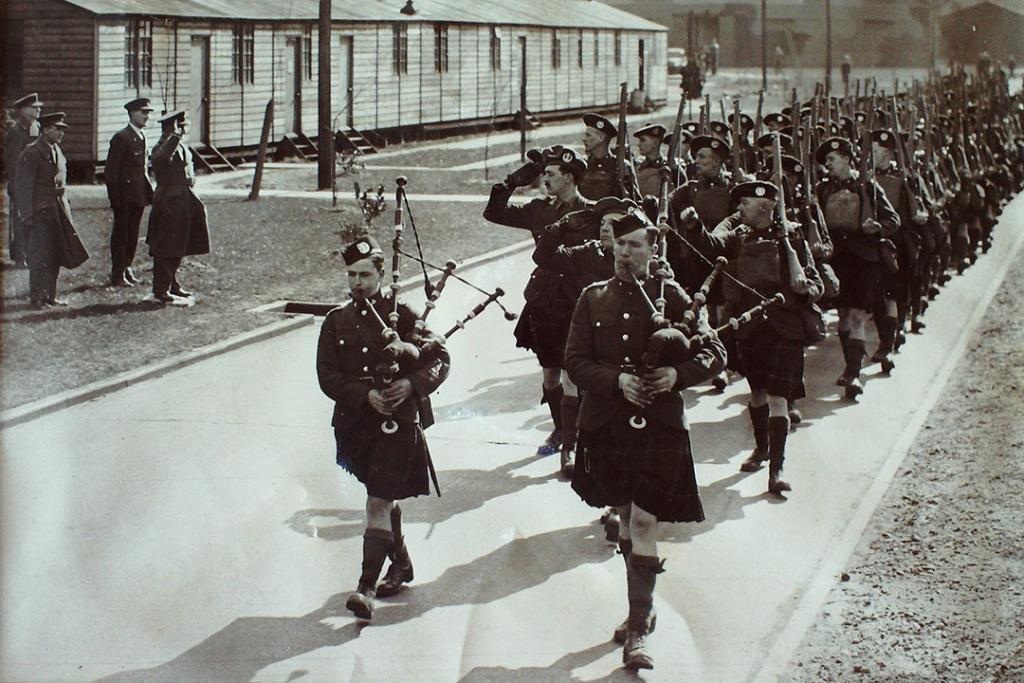 Liverpool Scottish 1st Battalion marching at RAF Finningley (Doncaster) March 1940,
prior to moving to the East Anglia/Sutton Hoo area a few weeks later.
Courtesy of Liverpool Scottish Museum Archive.
The popularity of the Netflix film The Dig has caused quite a stir with renewed interest and wonderment of the Sutton Hoo archaeological excavations centred on Anglo-Saxon burial mounds in Suffolk. There is some fascinating evidence for the Anglo Saxon period in Merseyside, and an even more remarkable link directly between Liverpool and the Sutton Hoo excavation has also come to light!
In my work caring for the King's Regiment collection, I have contact with a number of researchers. One such researcher Peter Brydon alerted me to the link between the Liverpool Scottish and Sutton Hoo! Peter, a retired Chartered Surveyor with a life-long interest in the King's Regiment, watched The Dig with interest and was reminded of a meeting some years ago with retired soldier, George Price.
Private George Price pictured at camp in his Liverpool Scottish uniform
A mysterious assignment
George had served with the 1st Battalion of the Liverpool Scottish during the Second World War. George had showed Peter a letter detailing some of his wartime memories which included a rather curious experience while he was stationed at Woodbridge, Suffolk in 1939. He was called upon to take charge of a loading party to assist with:
"...an army/civilian operation in the Sutton woods area... given a map reference in the woods and told to report for instructions on arrival at our destination, which was a clearing, crammed with tents... There was a tall lady in charge and when the 'tentage' was opened up, it revealed stacks of boxes and crates with code letters... The army lorries were lined up in convoy order, and the loading started... It was a highly secret operation. no conjecture; no questions; no guessing; no comments! Loading went on throughout the day and finally, when the loading was finished the convoy set off for an unknown destination."
George went on to speculate,
'So what was in those boxes? ...en route to somewhere for safe-keeping, America? Canada? The Cheshire Salt Mines? I believe we had been handling the despatch of the SUTTON HOO BOAT TREASURE!'
George's memory was detailed in many regards, but a little hazy in others, he thought that the lady who had asked for the boxes to be moved was named Mrs Peters, it is likely that it was, in fact, Mrs Pretty – the landowner and sponsor of the original excavations at Sutton Hoo.
Officers of the 1st Battalion Liverpool Scottish, Woodbridge, 15 May 1940. Courtesy of Liverpool Scottish Museum Archive.
Liverpool Scottish 1st and 2nd Battalions were in the vicinity of the site of the Sutton Hoo up until November 1940. Both battalions (as from 1937) were part of the Queen's Own Cameron Highlanders, although still part of the 55th (West Lancashire) Division. War diaries are currently being transcribed by the Liverpool Scottish Archive and may eventually help to shed more light on both battalion's movements around this time.
It's amazing to think that, unbeknownst to them, soldiers of the Liverpool Scottish contributed to one of the greatest archaeological projects of the early 20th century, and transported priceless treasures for safe storage to the tunnels of the London Underground while the war carried on above!
Valentine tanks of 48th Royal Tank Regiment, 21st Army Tank Brigade,
exercising in strength on Sutton Common, near Woodbridge in Suffolk, 4 June 1940.
© IWM H10266
Making the news
In 2003 after Ian Hislop featured Sutton Hoo in his Sunday Telegraph newspaper column, George wrote to him to find out more information. Ian responded to George not only personally but with a new column titled 'The wartime secrets of Sutton Hoo' on 23 March 2003. The piece ends:
"In a way which is typical of that wartime generation, George Price kept quiet about his part in this operation for years and only occasionally wondered what was on earth it was that was being removed so covertly, and whether it was being shipped off 'to America or Canada'.


After reading my column about this area last month he wrote, 'Perhaps you know and will tell me.' Well, yes, I do know.

The woods are those by the River Deben on land that belonged to a woman called Mrs Pretty rather than Mrs Peters. The crates that he was loading contained nothing less than the priceless treasures of the Sutton Hoo, discovered in a seventh century burial mound on the brink of war in 1939. The grave was that of a great leader buried in his own ship, and Mrs Pretty gave all the artefacts they found there - silver bowls, golden ornaments and the great jewelled helmet – to the British Museum.

During the war the whole lot was stored secretly in the London Underground. Bracken and turf were placed over the mound and the area was dedicated to more pressing use as a training ground for tanks and armoured vehicles.

I know all this not through any great powers of investigation but because I have recently visited the site of the Sutton Hoo, with its splendid new visitor centre, which has a display not only of the Anglo-Saxon artefacts but of the history of the site's archaeology. There are black and white images of men in trilbies digging in the mud with Mrs Pretty, in a sunhat, looking on.

In fact, one of my favourite items in the whole exhibition dates not from the seventh century but from the 20th. It is a letter from Basil Brown, the archaeologist who discovered the site, to his wife. It is dated September 3, 1939, and in it he explains what he has been doing, 'I am hastily now filling in the ship with bracken etc. and hope it will remain all right. Then, if war does not last too long it may come out all right for people to see.'

He then says: 'Mrs Pretty thinks that the war will fizzle out in short time'. Sadly it did not and Mrs Pretty died in the middle of it in 1942. The site and the treasure remained hidden until 1945. Yet it is Basil Brown's opening sentence that is so arresting: 'My dear May, hope you are all right in all this bother of war being declared'.

The use of the word 'bother' says it all about Britain at the time."