Our helping hand at Seized!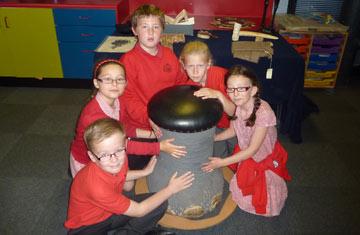 Ben Forshaw tells us more about what he's been up to during his work placement:

On my fourth day at NML, along with Jacob from the same school as myself, we learnt about illegal importing at the Seized! gallery. We also helped set up a presentation about the smuggling of endangered animals for school children.
Before the school arrived, Sarah Han from the education team gave us a tour of the gallery. I was very surprised to learn that people managed to import substances such as cannabis, by swallowing bags of the drug and excreting them, and that unlikely objects such as garden gnomes and cricket bats have been used to bring prohibited materials into the country. We learnt about the smuggling of items by fake brands eg, Polystation rather than Playstation. Despite it being evident that a Polystation is fake (some items appeared more genuine than others), people still bought them, not knowing the danger they posed. I was horrified to learn that a young child bought a fake Nintendo DS and, as a consequence of how it was made, died through being electrocuted. And while items like fake football kits cannot cause harm, the clear lack of authenticity in most cases suggest that child labour was used to create the clothing. This is why the Customs Officers are so important, as they, for our benefit, try to ensure that the importing of prohibited goods is prevented.
The school session was with a Year 4 class from Knotty Ash Primary School. Sarah focused on the importing of objects that were made by the skin or features of animals believed to be endangered. Certain people know that these animals are endangered and as a result of this want to have an item made by a part of that animal to appear unique. The most popular animals for this appeared to be the tusks of an elephant and the skin of a crocodile. One woman even made a handbag out of the full body of a crocodile, much to the disgust of the 8-9 year old children watching the presentation. At the end, everyone was given permission to touch a stool made from an elephant's foot, and this proved very popular with the children as they expressed great excitement at its rough surface. It became evident very early on in the session they were a very enthusiastic class and eager to get what they knew across. 
Jacob and I would like to thank Sarah for a really helpful and worthwhile morning. We think that you should take a look at Seized! for yourself.