A painting through time - Burd Helen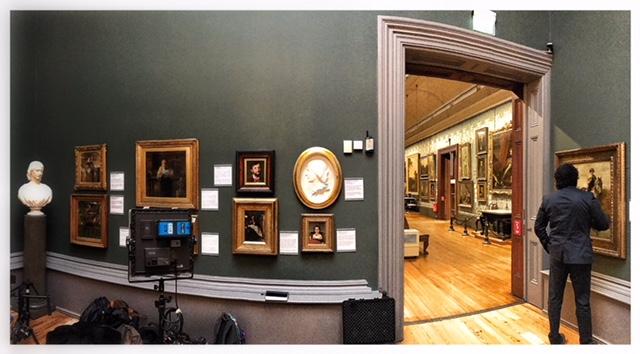 Since our painting '
Burd Helen'
, painted in 1856 by William Lindsay Windus, featured in the recent BBC2 programme 'A House Through Time', we've been flooded with questions. Presented by David Olusoga, the programme revealed that the male character in the painting was a portrait of a man called Wilfred Steele. Was this a new discovery? Did we already know who the sitter was? What was the source that David Olusoga mentioned? The story behind
'Burd Helen'
is from a Scottish border ballad. Made pregnant by her callous lover, Burd Helen ran alongside his horse disguised as a pageboy. Verses from the ballad are written on the painting's frame. As this painting is one of the most well-known works by the Liverpool followers of the Pre-Raphaelites, of whom Windus was one, we did indeed know who the sitter was. Olusoga's source for his findings - 'The Liverpool School of Painters' by Henry Currie Marillier - is famous amongst art historians and scholars of Liverpool's local history. The book, published in 1904, is renowned for its information on Liverpool artists. In this book, Marillier writes 'Mr Wilfred Steele, a connection of the Miller family, sat for the face of the cruel lover, and a Mrs Burns for that of the lady.' Marillier does not disclose his source for this information, but we do know that Windus was still alive when the book was written and published (the artist died in October 1907). We still don't know the specific identity of Mrs Burns and research into her is ongoing. In 1978, the Walker Art Gallery published an important two-volume catalogue called 'Merseyside Painters, People & Places' by the Gallery's then Keeper of British Art, Mary Bennett. It documented the artists working in Liverpool and on Merseyside from the 18th century through to 1978, and the works held by them in the Walker's collection.
David Olusoga studying the painting 'Burd Helen' for BBC2's 'A House Through Time' In her comprehensive entry on
'Burd Helen'
, Mary Bennet agrees with Marillier's identification of the sitters. She also mentions the painting's landscape background, which is supposed to have been painted in North Sannox Glen, on the Isle of Arran. Her source for this additional information was an undated, privately printed pamphlet produced by James Smith of Blundellsands called 'In Memoriam W. L. Windus, D. A Williamson' (Daniel Alexander Williamson was another Liverpool Pre-Raphaelite). Smith was a reliable source of information, and he was a major local art collector who knew Windus and produced the pamphlet after the artist's death. The 'Miller family' that Marillier mentions in his book relates to John Miller, a Scottish, Liverpool-based merchant and art collector who was a great friend and supporter of the local and London Pre-Raphaelites. John Miller was the first owner of 'Burd Helen'. You can read more about him in our
previous blog. 
As Olusoga explained in last week's programme, we don't know how Steele had come to sit for the artist. But I might have found the key to this connection! My initial thoughts were perhaps Steele had met Windus at one of John Miller's renowned social gatherings, where businessmen mingled with artists. Sadly, there was no evidence to support this. Furthermore, I hadn't come across Wilfred Steele's name in connection with Miller, other than in Marillier and Bennett's existing references. But with Steele's name upmost in my mind as a result of the programme, I suddenly realised that the surname rang a bell in relation to the masses of research I had undertaken over several years into Miller and his large family. Sure enough, my research has shown that one of John Miller's sons, also named John, had married a woman named Dinah Jane Steele, in Liverpool in 1851. What's more, Dinah's parents had the same name as Wilfred's! I previously had to 'park' my research into Dinah's family in order to focus on the core Miller story, but further examination has now revealed three siblings – Dinah, James and Wilfred Steele. So, Wilfred's sister Dinah was John Miller Senior's daughter-in-law. This gives us the key connection and suggests how Wilfred probably ended up sitting for Windus. He was actually part of Miller's extended family, with a direct family connection to the man who knew the artist very well and who was to become 'Burd Helen's' first owner.
Pre-Raphelites: Beauty and Rebellion
In 2016 the Walker Art Gallery organised an exhibition called
'Pre-Raphelites: Beauty and Rebellion'
that explored the link between Liverpool and the Pre-Raphaelites. The exhibition was also a tribute to the work of both Marillier and Mary Bennett. If you would like to learn more about Windus, his painting 'Burd Helen', John Miller, and the influence that the London-based Pre-Raphaelite artists had on their Liverpool counterparts, there is no better place than the
catalogue
for this exhibition.