Pancakes at sea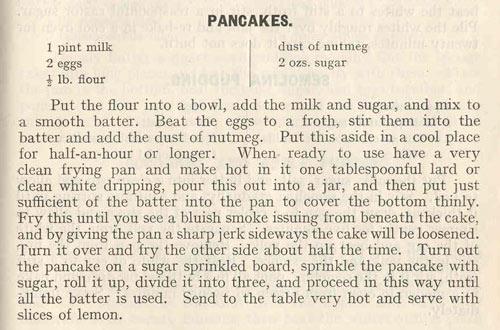 Recipe for pancakes, from Sea Cookery by Richard Bond (Archives Centre reference 413.BON)
I'm sure there are plenty of pancake batter recipes available on the internet, but there's always room for one more. This is from a 1911 edition of 'Sea Cookery' by Richard Bond, which the author describes as "a cookery book which will on sensible and plain lines give a number of recipes of value both on sea and shore". It does seem to do just that, giving recipes for all kind of useful dishes, including how to make yeast (vital for fresh bread) and how to boil a sheep's head.
The quality and quantity of food on board a vessel had a big impact on crew and passenger morale and behaviour. A combination of poor ingredients and equipment, parsimonious shipowners, and lack of training made food at sea notoriously bad.  'Son of a sea-cook' was a common term of abuse. 
Recognition of these problems led to a clause in the Merchant Shipping Act of 1906 requiring a vessel of 1000 tons and above to employ a trained cook. The Archives Centre at the Maritime Museum holds several certificates for sea cooks.