Passenger power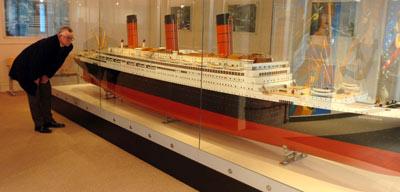 Several of my friends emigrated but now, with the arrival of cheap air travel, they quite frequently return on visits. One comes every year from New Zealand. In the past emigration usually meant, for those left behind, that you were unlikely to see loved ones again. It was a drastic step.
Liverpool was well-placed on the west coat of Britain to cater for the huge growth in the emigrant trade to the United States and Canada by the early 19th century. It became Britain's most important international passenger port and probably the greatest emigrant port in world history, with some nine million people passing through in the period 1830 to 1930. Not until 1927, when transatlantic emigration was in decline, did Southampton finally surpass Liverpool for international passenger traffic.
From 1800 until the 1920s the busiest ocean travel route in the world was between the British Isles and North America. Most of the millions of passengers on this route were emigrants to the USA and Canada. Many came from as far away as Scandinavia and Russia to set off from Liverpool. From 1850 many emigrants also sailed to Australasia and other British colonies around the world.
As the 20th century dawned, however, more and more people became tourists and travelled the oceans for pleasure rather than need. The main short-sea routes to and from Britain are to Europe and Ireland. In recent years, business and pleasure have been the main reasons for travel.
Despite the successes of Cunard's paddle steamer Britannia and other British steam packets in the 1840s, most passengers to and from Britain still travelled by sailing ship. This was because until the 1860s travel under sail, although slower, remained cheaper. By 1870 steamships were becoming larger and more powerful and were carrying many more passengers than ever before.
There are many displays at Merseyside Maritime Museum illustrating the era of sea passenger travel. There are displays about the passenger liners, how people lived on board, what they took with them and what they ate. The Britannia, a wooden paddle steamer, took 14 days to cross the Atlantic. The Queen Mary, five times as long and nearly 70 times larger in tonnage, took just four days.
Liverpool-based shipping companies had regular passenger services to every continent until the 1960s. Competition from air travel ended the era of the passenger liners but in the recent years there has been a huge growth in cruise holidays.
A new Maritime Tale by Stephen Guy appears every Saturday in the Liverpool Echo.