The perfect Christmas dinner: my ultimate guide
The festive season is nearly upon us. Food galore, drinks flowing, exchanging gifts and spending time with your nearest and dearest… Who doesn't love this time of year? For many though, the thought of having to cook Christmas dinner can be stress-inducing to say the least. To help you out, here are my top ten tips for that perfect Christmas roast.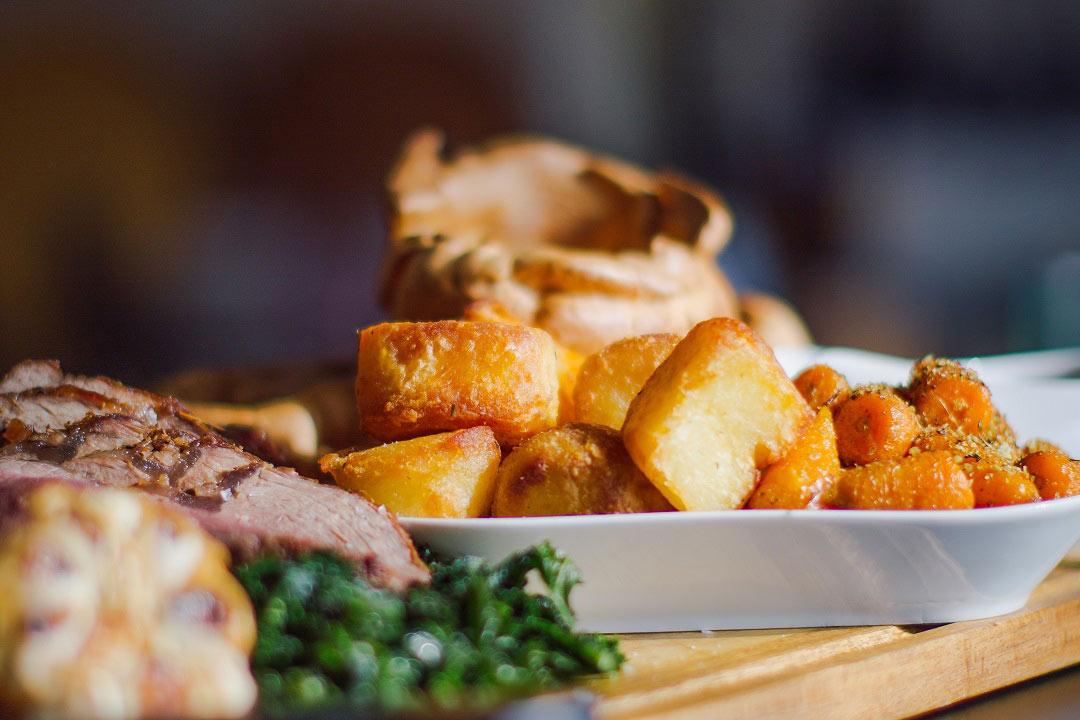 1. Start the preparation early
For a stress-free Christmas day, preparation is key. 'Fail to prepare, prepare to fail' as the kitchen saying goes. This can start weeks before by making the Christmas pudding, Christmas cake, cranberry sauce and chutneys; all of which get better with time.
Most of the time-consuming preparation should take place on Christmas Eve. I always cook the gammon and prepare the vegetables and stuffing the day before. It's a perfect chance to spend time with the family and get everyone involved with the cooking, and will make for a more relaxing Christmas day. Trust me!
2. Early bites
Instead of serving starters at the table, I do nibbles and canapés to start as people are arriving. It's much more informal and allows you time to concentrate on cooking the dinner itself. As we all know, the last hour is when it all comes together.
I like to serve smoked salmon and horseradish crostini, duck liver and spiced cherry chutney en croute – and of course, a glass of champagne to drink.
3. Star of the show!
At Christmas, for me, the star of the show has to be the turkey and I would recommend getting the best turkey you can afford. In our house it isn't Christmas without a KellyBronze turkey. It's a unique breed that has been brought back and the birds are twice the age of standard turkeys, which more than doubles the flavour. Once roasted with the giblets, the bird creates the most amazing stock which makes the best gravy.
I first tried KellyBronze turkey when I went on a college trip 14 years ago to the farm, when it was a well-kept secret. Since tasting the difference I had to convince my Mum to pay more that year, but since then we have always had these turkeys at Christmas.
4. Perfect roasties
We all know what makes the perfect roasties; light and fluffy on the inside, crisp and golden on the outside. However, at Christmas it's about taking it to the next level and adding as much flavour as possible – garlic, fresh thyme, goose fat etc. My top tip to keep the potatoes in shape and stop them breaking up is to simmer the potatoes instead of rapidly boiling them, and then rough them up a bit when draining in a colander, as this allows excess moisture to steam off. Always preheat your fat, cook on a high temperature to add colour, and allow plenty of time in the oven once the meat is out and resting.
5. By no means least…
Don't neglect the vegetables! They can make or break a roast dinner in my experience. My favourite choices for Christmas have to be; braised red cabbage with apple cider vinegar and cinnamon; carrots cooked in orange juice, butter, a little sugar, water and star anise (the cooking liquid reduces and gives a wonderful glaze); honey roast parsnips with wholegrain mustard and honey; and last, but certainly not least, it has to be sprouts. I blanch them first, cut them in half and finish in a pan with pancetta and chestnut butter.
6. Stuffing
Good stuffing comes down to using a good quality pork sausage meat. This dish should be made the day before to allow the mix to firm up.
Start by sweating onions with thyme until completely cooked but without colour, add to the sausage meat once cold and add breadcrumbs made from stale bread, blitzed up in a food processor. Then you can flavour the mix and add whatever you like to create your perfect stuffing. I like to use something sweet like dried fruit, chopped nuts for texture and orange zest for freshness. The mix can be shaped in to stuffing balls or cooked as one in an oven dish for 45-50 minutes on the day.
7. Fresh herbs
In professional kitchens, there is never a shortage of fresh herbs to cook with and add additional flavour. If there is one time of year to buy fresh herbs, make it Christmas. I always use woody herbs like thyme and rosemary.
Use bay leaves to add flavour to gravies and braised red cabbage – they last a long time and are incredibly versatile. Also, soft herbs are great for adding last-minute flavour, like sage used in stuffing, or parsley to go into a compound butter for finishing the sprouts.
8. Carving tip
After resting your meat – which is essential to relax the meat and allow the juices to stay in the bird – it's time to carve. Leave this step as late as possible before plating up, as the heat will be lost quickly after carving and you want to keep all the juices in. A tip that I picked up when visiting the KellyBronze farm was to remove the wings and both legs, then one of the whole breasts along the breastbone from the crown, as you would with a chicken. You can then easily slice the breast into even slices, hold the leg up and carve chunks of dark meat off to offer both.
9. To finish
It has to be Christmas pudding served with hot brandy sauce. Again, it's best to make and steam this ahead of time, then you can microwave the whole pudding when needed.
For the sauce, create a sweetened white sauce finished with vanilla, brandy and double cream.
For an alternative dessert, try Pavlova topped with Chantilly cream and fresh fruit such as figs, blackberries and cherries – we have this on our seasonal lunch menu and it always goes down well!
I tend to save the cheese platter for later when you have room to really enjoy it.
10. Drinks
For the meal, go for a full bodied white like a White Burgundy or oaked Rioja Blanco. If you prefer red, try a medium bodied bottlelike New World Pinot Noir or a classic Bordeaux. For beer drinkers or for something different, try a Belgium Dubbel or amber ale – both of which will stand up well to the rich meal.
The ultimate drink to finish with has to be port and the only choice for me is tawny or late bottled vintage.