Piloting towards good mental health
For Mental Health Awareness Week our assistant curator has taken a look at the positive effects that museums can have on people's lives, focussing on a ship model from the Maritime Museum's collection which has played an unusual role in helping Armed Forces personnel readjust to civilian life.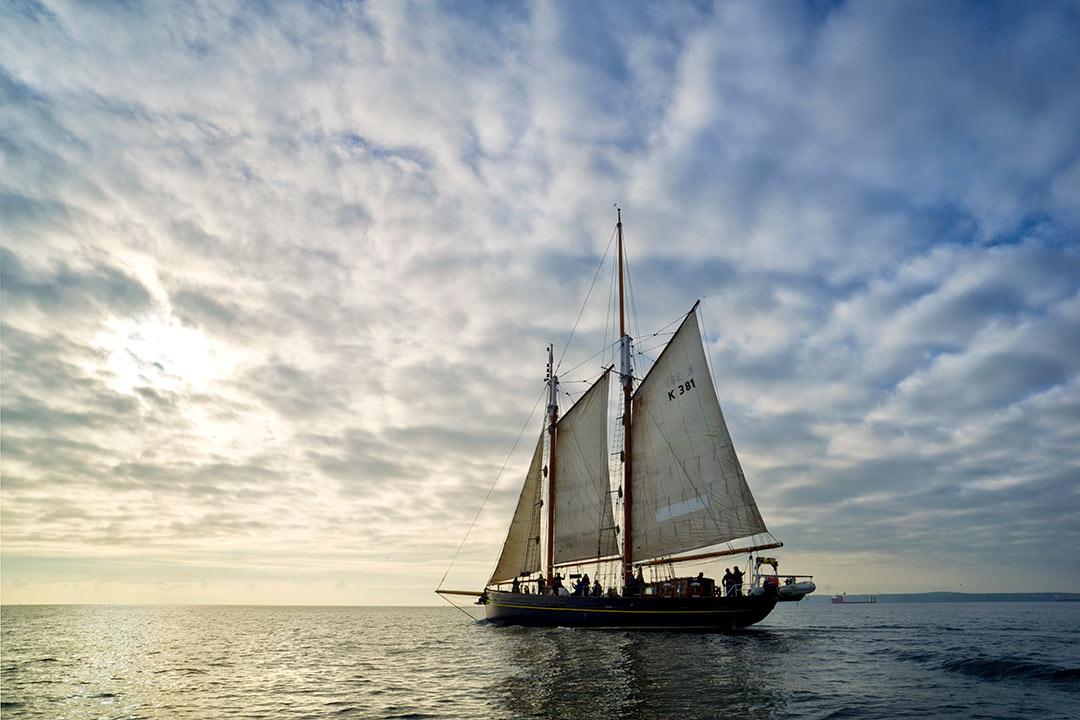 Spirit of Falmouth © Turn to Starboard
Let me take you back to 1862. Liverpool Museum (you might know it better as the World Museum) has been open for just nine years and it's only been two years since it moved into what is still its home today on William Brown Street. There's no Maritime Museum yet, there won't be for more than a century, but it hasn't taken long for Liverpool's maritime heritage to start finding its way into the Liverpool Museum collections.
In 1862 Liverpool Museum is gifted its first ship model. We think it may also be the very first object in what would become the Maritime History collections. She's a Liverpool Pilot boat called Leader, a lovely model in 1:16 scale, made by the first man to command her, Captain Hudson. At this point the model is just a hull model, the rigging and sails would be added later, in 1934, under the watchful eye of another generation of Mersey River Pilot Boat Captains. The involvement of seafarers who knew this ship, and others of her type, inside and out, helped to ensure her accuracy, and perhaps it was this very accuracy that led to the model being selected for a very exciting project in, what was then, the far future.
Model of Leader, photographed in the 1950s, small boys for scale! (15.4.1862)
Spirit of Merseyside
Jump forward nearly 120 years from the model's collection, to the 1980s, and Liverpool finally has its much deserved Maritime Museum, though we weren't yet in our current Albert Dock home. The collection's gone from one ship model to hundreds of them, but of all those hundreds it is Leader that is chosen to be used as a reference by a group recreating a full sized sailing craft.
The designer for this ambitious project visited the museum store multiple times to view Leader and was provided with line and rigging plans that our conservator produced from the model. The full size ship was built between 1981 and 1985, in a shed on Irwell Street, right beside the graving dock in which you can still see another Pilot boat, the Edmund Gardner. Irwell St itself no longer exists, it vanished under the new building developments at Mann Island more than a decade ago now, but our longer serving museum staff still remember it and recall the ship being built. The ship was named Spirit of Merseyside and was first used to take disadvantaged children and young adults on sailing trips. She's changed owners and names a couple of times since and in 2014 Spirit was gifted by The Princes Trust to the Falmouth-based charity, Turn to Starboard. She was then renamed Spirit of Falmouth and joined them in their mission.
Turn to Starboard
Turning to starboard (that's your right if you're on board looking towards the bow - front –-of a ship) is what two ships do to avoid collision, and the charity aims to help people to make the right turn. They work with serving and retired Armed Forces personnel, and their families, helping them to readjust after tours of service, with a focus on "resettlement, reintegration and reinforcing a sense of value and belonging." Many of those they work with have suffered injury or trauma in service and have struggled with the transition to civilian life. The charity was founded by retired RAF Squadron Leader Shaun Pascoe and inspired by his own experiences.
"We don't do therapy on our boats...what we do is give them something to look forward to, help them be back on their game, and to get that challenge each day, and strive for getting back to what they were."
Turn to Starboard: Get Ready for Round Britain challenge 2016
Spirit of Falmouth © Turn to Starboard
Spirit of Falmouth isn't Turn to Starboard's only vessel, but she is the flagship of their little fleet and, being an older ship by design, offers a more challenging adventure. Sailing, particularly with a vessel like this one, requires everyone on board to work as a team. It offers participants a chance to learn new skills, set themselves goals to achieve, and leave some of their troubles on the shore for a while. For those with mental health problems the opportunity to be engaged and involved often leads to them engaging better with their treatment once they return home.
Through their 'Zero to Hero' programme Turn to Starboard offer tuition towards an RYA Yachtmaster Offshore Qualification, providing ex-service personnel with skills that can lead to a new career. They also offer family sailing experiences, focussing on quality time and helping families to re-engage after their time apart. One of the children who'd been on a family sail offered this particularly moving testimony:
"My daddy came back from Afghanistan – but when we went sailing, he really came back."
There are so many testimonials from those the charity have helped, citing both the physical and emotional benefits they experienced. They talk about how they "feel alive again", about life taking on "new meaning and purpose", "worth more than any counselling session." I was particularly struck by someone saying they felt like "my soul has been recharged."
Leading people safely home
In 2016 Spirit of Falmouth called into Liverpool, and visited the Maritime Museum, while on her Round Britain Challenge. She was of course brought safely into the dock system by a modern day Mersey River Pilot. It seems particularly appropriate that Spirit of Falmouth should have been modelled on a Pilot boat. Pilot boats are the ones that join you at the end of your journey to bring you safely into port, safely back home. When she visited us in 2016 her crew saw this wonderful painting of the original Leader doing just that in 1881, when she famously brought home a fleet of 12 ships during a gale.
Follow the Leader by Joseph Witham, 1896 (1982.328)
Reading about the work Spirit of Falmouth now does, I feel like, in a sense, Leader's still piloting people through the difficult waters at the end of their long journeys, in order to help them home.
The therapeutic power of the sea
I've written before about the toll that seafaring can take on the mental health and well-being of those who work at sea, and it's so important that we keep working to tackle that, to see seafarers better supported and better protected.
This though is the other side to the conversation around mental health and seafaring. For centuries the sea has been used therapeutically, for both physical and mental complaints. Sea air, sea bathing, sailing, they've all variously been recommended to improve people's health and well-being. A tradition of thalassotherapy (the therapeutic use of sea water, sea products and climate) which we see proudly still helping people to this day. As Euripides put it more than 2000 years ago:
"The sea washes away the ills of humankind."
For me there are two messages in this story. There's the incredible therapeutic power of nature, and particularly of the sea. Something I expect so many of us have felt either out on the water or standing on the coast; almost like the sea air can blow the cobwebs out of your brain, the instinctive feeling that something about that specific environment is doing you good, "recharging your soul".
Museums change lives
The other thing that I think this story demonstrates so well is that museum collections aren't just static, decorative things. They are a genuine and important living resource. When this model was donated to us in 1862 no one who collected it could have had any idea of what impact the model would go on to have.
At the very first Museums Association conference I went to, I was handed a tote bag bearing their campaign slogan 'Museums Change Lives'. That sounds like a huge claim, but it's not unfounded. Various studies have shown the health and wellbeing, and obviously educational, benefits of museums and galleries. It's less common though to come across a story like this, where you can point to an individual collections item and see that by collecting Leader, nearly 160 years ago, those now long dead curators helped to change the lives of people who weren't yet born.
The fact those 1862 curators would never have had any idea of this being the case does not for me detract from the story at all. It's a sign that, as society evolves and changes, so do museums, so does how we use and interpret our collections. As a national museum we hold our collections in trust on behalf of the wider population. I can think of no better example of the collections being used for public good than that of the Leader and her full sized replica. Turn to Starboard describe their boats on their website as their floating family, like so many seafarers before them they see their vessels as much more than just equipment. Spirit of Falmouth is a member of a team that are dedicated to helping those who have suffered to reconnect with their lives, their loved ones, and themselves.
Spirit of Falmouth © Turn to Starboard