Plant models collection now online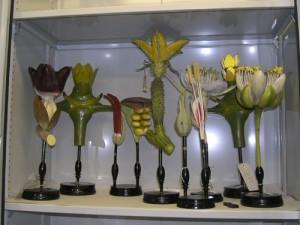 Here, Curator of Botany, Donna Young reveals a fascinating part of our botanical collection, Brendel's anatomical plant models and how they were used as teaching aides.
"Down in the basement of World Museum there is a room with cabinets lining the walls. Inside these cabinets are an amazing collection of large and very colourful plant models. You may have seen some of them displayed in our atrium or in our Clore Natural History Centre.  The models are part of the museum's botanical collection and were made around 1900 in Germany by a firm of Berlin model makers called Brendel. They are constructed from a variety of materials including papier-mâché, wire, wood and glass. If you look closely you can even see small pieces of animal fur and feathers – used to resemble the hairy parts of a plant. These days a flower can be dissected under a microscope and the image can be projected to an entire classroom. But a hundred years ago, the models were used as teaching aides, to illustrate plant anatomy. Many of them also come apart to show the inner structures of a plant – some fitting together like a floral version of a Russian Doll. The models could be ordered from a catalogue, and we know from our accession registers that the majority of them came to our museum in 1905 and 1913. It is likely that they were used as display items and for teaching botany. Over the years, plant parts had become detached from their bases which have the original label on them, and some parts from different models had become mixed up together. We have completed an audit of the entire collection and, where possible, the models have been re-united with their original bases. We have around 200 Brendel plant models in our collection, and we think that this is probably one of the largest collections of its kind in the world held in one place. Most of the models are in excellent condition, many having been expertly cleaned by staff and interns in our Organics Conservation section. The models have been used in a number of external exhibitions to illustrate floral themes. They have formed part of art installations and have provided general inspiration for artistic works.
Each of the plant models has been photographed, catalogued in a database and published on our website. See the plant models online now. Please contact us if you can provide further insight into this collection. We hope to learn more about these fascinating and beautiful objects in our care and we are keen to hear from other institutions that also have Brendel plant model collections. We hope that our database will provide a useful resource to help other institutions match parts of plant models in their collections. Maybe one day it could also form part of a complete online catalogue for these models, showing where they are now distributed around the world."