Poetry and Porcelain Dream-Worlds
We are delighted to share 'From Silk Roads to Tudor Ships: Poetry and Porcelain Dream-Worlds', a collaboration between the World Museum and the TIDE project (Travel, Transculturality, and Identity in England, 1550 –1700). Our partnership brings curators, academic researchers, poets, filmmakers, and students together in a creative project that illuminates the histories of museum objects and their connection to contemporary issues of identity and belonging. This partnership will culminate in the permanent redisplay of the World Museum's pre-modern Chinese ceramics in the World Cultures gallery, providing an immersive museum experience that threads the ceramics' places of origin and migrations to their presence in the gallery. From the furnaces in Fujian, China to the cabinets of Renaissance Europe, and finally to the museum itself, these travelling porcelains connect us to global and historical currents.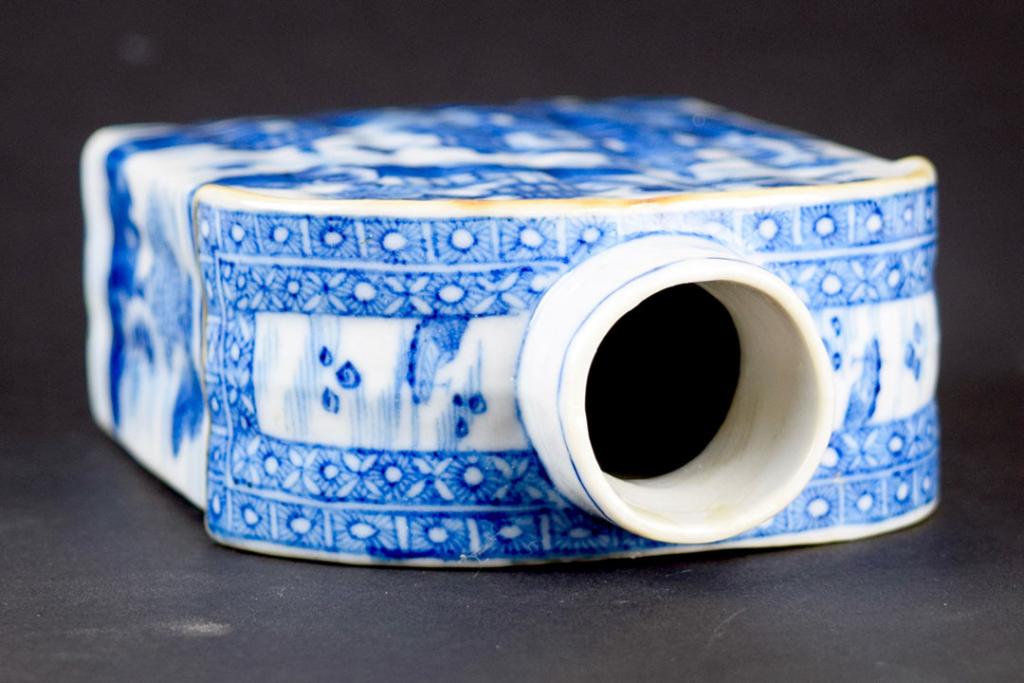 Porcelain tea caddy painted in underglaze blue, Qing dynasty, c18th century.
Photo © World Museum/National Museums Liverpool.
What does porcelain have to do with England?
"I've made a home for myself, you see. One day / the English will forget who invented tea."
Sarah Howe, 'Porcelain Tea Caddy Painted in Underglaze Blue'
The English began to show increasing interest in owning Chinese porcelain during the reign of the Tudors in the 16th century. Merchants ventured far beyond the realm in search of luxury goods for consumers back home, including 'an infinite quantity of Porcelain, made in vessels'. These were valued for their beautiful luminescence, but also for their uniqueness: English artisans did not yet possess the trade secrets and techniques required to replicate its production.
These porcelains were brought to England on a different kind of vessel – ships. Obtaining these rarities involved perilous journeys across a network of sea and overland routes known as the Silk Road. On land, travellers faced mountains and deserts, while sea voyages took them across the Pacific and Indian oceans, where storms, shipwrecks, and piracy threatened the survival of people and objects alike. In 1592, the English intercepted two Portuguese ships laden with spices, silks, ivory, and many 'porcelain vessels of China'. Porcelain objects soon made their way into household inventories, paintings, and cabinets of curiosities. They have adorned many a mantelpiece and tea table since, becoming a regular feature as tea consumption rose in Britain in the eighteenth and nineteenth centuries.
Imagining object lives
"Dredged up from the dark / they pieced my fragments / back to wholeness."
Sarah Howe, 'Thinly Potted Porcelain Kraak Dish' Do objects dream?
What transformations do they, like us, undergo through the experience of travel?
The TIDE project, hosted by the University of Liverpool (2016 – 2019) and now based at the University of Oxford (2019 – 2021), researches Renaissance exploration and its connection to critical debates in our current world about identity, race, and imperial legacies. To explore how creative responses to museum objects might speak to these issues, TIDE commissioned the Hong Kong-born British poet Sarah Howe to write a series of poems based on six of the World Museum's objects. Sarah won the TS Eliot prize in 2015 for her poetry collection, Loop of Jade, which explores themes of memory and identity through a series of imagined and actual journeys between England and China. Working with a national museum in Liverpool seemed particularly suited to this project, since the city is home to the oldest Chinatown in Europe, a result of the port's direct trade with Shanghai in the early 19th century.
The display is partly inspired by the bright Chinese porcelains gleaming in early modern still life paintings. In this 1616 image by Frans Snyders, gold fixtures have been added to the cup and saucer, repurposing the vessel as a container for berries. Photo © Wikicommons.
Sarah chose to write about the museum's earthenware horse, a pair of incense burners shaped like the mythical dogs of Fo, a white glazed porcelain cup, a porcelain tea caddy, and two ceramic dishes. She framed her object poems using some of the themes and concepts around travel and belonging that appear in the keyword essays written by TIDE researchers (the essays on 'home', 'country', 'foreigner', 'traveller', and 'host', among others, can be accessed on the TIDE project website. At the same time, the poems convey the tactility and playfulness of the selected objects, from the grit of sand and barnacles they encounter in a shipwreck, to the earthenware horse eroded 'with lichen and stars'.
Inspired by Sarah's poetry, MA Immersive Arts and MA Art in Science students and academics at Liverpool John Moores University (LJMU) developed the idea of dreamscapes and began planning how to incorporate the poems into the museum display, starting with the question, 'Do museum objects dream?'. To invite young people to participate in the story-telling process, Sarah, the World Museum and TIDE also ran poetry workshops with students from Birkenhead High School Academy. Students imaginatively reconstructed the life of an object through its own perspective, then filmed readings of their poems with Belle Vue Productions.
What's next?
In coming months, we will continue to develop the display case into a creative, immersive space. Sarah's poems will be incorporated into the exhibition space through a combination of audio and visual special effects with the ongoing help of LJMU's students and staff.
Creative responses to historical connections and pushing the boundaries of museum practice continue to provide the backbone for the project. This partnership is part of #WMWhereNext, the World Museum's campaign to develop innovative ways of approaching and displaying the collective past, present, and future. An important element of the collaboration has always been a willingness to critically examine the role of museums in England's history of collecting and colonialism. We hope that when the display does open, visitors will be able to interact with the various layers of these entangled stories simultaneously – to think about the histories of acquisition and appropriation that were involved in taste and consumption without losing the stories of survival, perseverance, and adaptation that are also a part of these object lives as they were created, admired, handled, and transformed by Chinese potters and English goldsmiths. Their cracked and chipped surfaces invite us to think about the pain and beauty of survival, and about what we do with our own resilient selves as we move through the world.
Finely potted white glazed porcelain cup, Qing dynasty, c. 1662 – 1722. In the seventeenth century, the Chinese likely used this cup for alcohol. When it arrived in Europe, a silver handle and foot rim were added, transforming it into a sugar basin. Photo © World Museum/National Museums Liverpool.
Find out more
Stay updated on our collaboration by following @World_Museum and @ERC_TIDE on Twitter. For more information about the World Museum's redisplays, you can follow the hashtag #WMWhereNext
To explore TIDE's work with contemporary writers and access their free resources on teaching migration and empire in the classroom, visit the project website.