Port people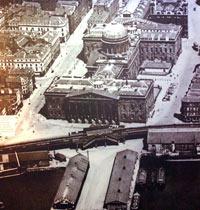 There are many pictures of the exterior of this huge H-shaped structure crowned with a dome but I have yet to see any of the interior. In its prime this was one of the busiest places in the port with people beavering away and rushing hither and thither.
The Custom House was damaged in the May 1941 Blitz and later demolished – although many believe it could have been saved.
On display in the new Seized: Revenue & Customs Uncovered gallery at Merseyside Maritime Museum there is a large contemporary wooden model of the Custom House, built in 1837 from a design by John Foster Junior (circa 1787 - 1846).
Trade brings profits and those who do business through ports have to pay the appropriate duties and taxes on many items that are imported.
From the 1700s Britain's trade with the rest of the world grew hugely. It fell to Customs officers to control it and protect the revenue so that the Government got its share.
On the quaysides and in the warehouses of Liverpool and every other port, amid the hustle and bustle of unloading ships and moving cargoes, the Customs officers went about their daily business.
Each man had a special job. For example, front line officers known as tide waiters met each incoming vessel and stayed with it until the cargo was unloaded. Some weighed and measured cargoes while others toiled at paper work in the Custom House.
Custom Houses were once the hub of every port. They were run by the comptroller who had immense power. He could prevent ships from unloading their cargoes or leaving port.
The Long Room was the heart of his domain where captains arrived from months at sea to present their paperwork to bench officers who made out a warrant and copied out six extracts. These were then sent to six different colleagues elsewhere in the building.
On display is a fascinating aerial view of the Custom House taken around 1935 (pictured). It shows the Overhead Railway station outside the entrance so that Customs officers on foot had fast and easy access to all the Liverpool docks.
An enamelled notice from about 1909 declares: "The Commissioners of His Majesty's Customs and Excise hereby give notice that spitting is strictly prohibited in all parts of this building. By order."
Lead image: Liverpool Customs House. Image courtesy Liverpool Daily Post and Echo.