Rare Greenland kayak heads for home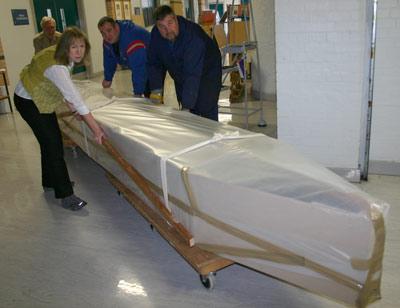 You can't really see it in this photograph but trust me, this photograph shows a c19th century Greenland kayak that belongs to Trinity House in Tyne and Wear - inside a lot of packaging. The kayak is quite rare as boats of this type are very fragile and tend not to survive. It has a wooden framework, with baleen bindings (the filtering material from inside a whale's mouth) and sealskin covering. However, the kayak was extremely dirty and showing signs of water damage when it first arrived at the National Conservation Centre for treatment. Parts of the skin and cockpit hoop were coated with a brittle black resinous coating, which had to be removed. The skin also appeared to have been waterlogged at some point in the past, resulting in severe shrinkage, distortion and blackening on drying.
Conservation of the kayak was a real team effort, with senior organics conservator, Tracey Seddon, working on the skin, while head of engineering and maritime conservation, Jonathan Carr, treated and repaired the internal framework. Once they had finished, furniture conservators Graham Usher and Malcolm Broadbere helped to adapt a special frame to support and protect the kayak on its journey back to the North East.
Its conservation complete, the kayak left yesterday for the journey back to Trinity House. At 5.4 metres long it was not an easy thing to move so Tracey called on the help of several colleagues to carefully guide it down the corridors and out of the building. That's nothing compared to what is to come though, as a first floor window is being removed in order to get the kayak safely back into Trinity House. Once inside it wil be displayed in a newly refurbished room.