Remembering Doreen Yarwood - Blitz survivor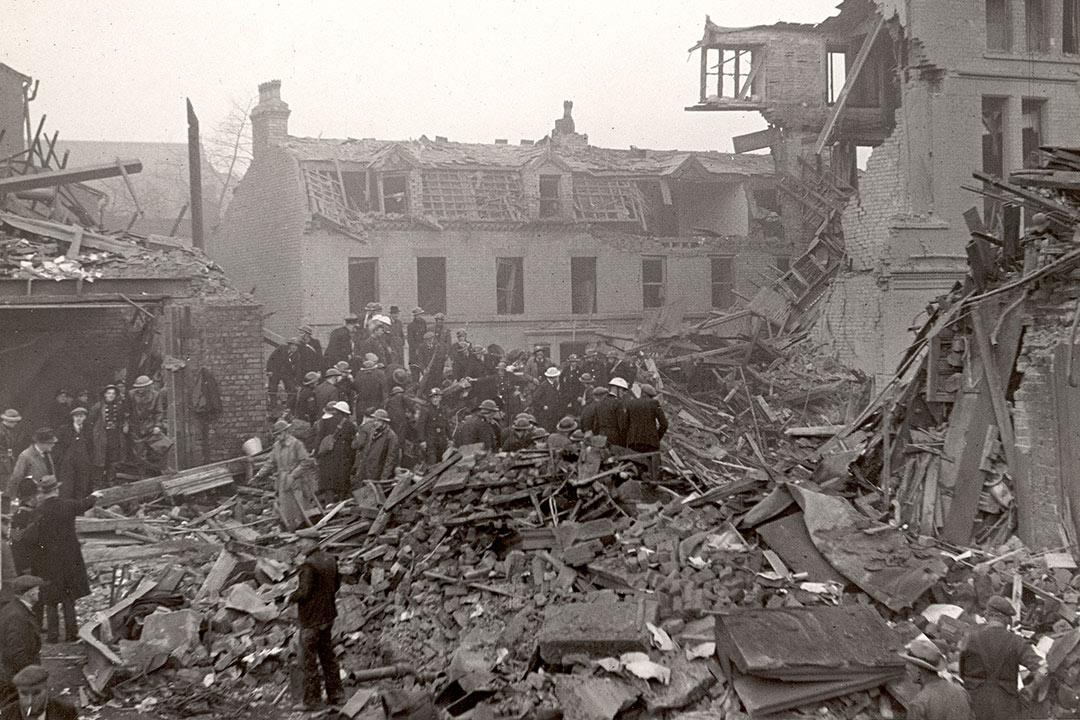 Durning Road, Edge Hill. 29 November 1940. © Merseyside Police
"My Nan was a survivor of a Blitz bombing, with her voice and words forever held in the museum archives."
If you've visited the Blitzed: Liverpool lives exhibition at the Museum of Liverpool you may have heard Doreen Yarwood (nee Bethell) talking very movingly about being rescued from the Durning Road disaster, 29 November 1940, aged just seven years old, along with her older brother Ronnie.
Doreen and Ronnie were extremely lucky, around 166 people died in the disaster, which was the worst single incident of the Liverpool Blitz regarding loss of life. For many years to come she was still profoundly affected by it and was unable to walk down that road.
Doreen was originally interviewed about the incident for the Museum of Liverpool's collections in 2002 and still remembered it very clearly.
You can listen to the audio clip of Doreen from the exhibition here and read a transcript below.
Durning Road
The direct hit on the large underground shelter in Durning Road, Edge Hill occurred in the early hours of 29 November 1940. About 300 people were tightly packed into a shelter in the basement of Edge Hill Training College.
When a parachute mine hit the building, it collapsed into the shelter below, crushing many of its occupants. Boiling water from the central heating system and gas from fractured mains poured in. Raging fires overhead also made rescue work extremely dangerous. In all, 166 men, women and children were killed. Many more were badly injured. Firemen and rescue workers can be seen here on top of rubble desperately searching for survivors.
A tribute Doreen
Doreen's granddaughter, Jo Woodward, tells us more about her beloved Nan who sadly passed away in October 2020:
"The first line of the eulogy I gave at her funeral read, 'My Nan was a survivor of a blitz bombing, with her voice and words forever held in the museum archives'.

Few people knew of her ordeal as a child yet I knew that she carried the weight of trauma with her throughout her life and I was proud of her resilience and strength. Nan would often touch on the events of that night with a mixture of grief, guilt and relief and would recall the scenes as if they were yesterday.

However, she went on to live a life full of love and laughter. Nan was a true Liverpool lady with a quick wit and passion for family. She had an infectious smile and a sparkle in her eyes that people were drawn to. She will forever live in my heart and I will remember the strong and beautiful woman she was and will always be to me."
Blitz memories
You can read visitor responses which have been added to the exhibition in this article and listen to more excerpts of personal experiences of the Blitz featured in the exhibition in this video.
Transcript of Doreen's audio in the exhibition
"I really couldn't see anything, the dust was just full, I mean as I say I was seven, Ronnie eight, when we got out of it our hair was just white, coughing and then there was like big girders, big steel things, remember them 'anging down, you know.

And the previous two days before that, I think me mum got a cheque, I think she did and she bought, I mean, this is life, you know, she bought me a pair of shoes, but they were called ankle bands, kiddies, black ankle bands and boots for me brother, new ones and all you could get out of me was, 'My shoes have gone', but me feet was cut to ribbons, me brother, we were bruised an that, anyway we walked a distance, but we got out and I remember somebody getting me out this hole, this thing and then putting me on his shoulder. Getting Ronnie out, putting, because as I say he was, and me mum, but me mum still had the blankets and that, and we walked down Durning Road there, stones and everything, it was just terrible, and they took us into the police station in Durning Road. Now, with me not having any shoes on, and me brother, they had sacks, and they put the sacks round our feet and put big pieces of string, you know, rope round them.

When I walked up Durning Road it was horrible. Now I used to get half way and I couldn't even, on the other side, I couldn't even pass the fire station. Now the fire, the men there were very good, yet it's taken me years to do it, and when I left school I just tried it. I come down. I never told anybody, because they used to say to me, the girls, 'Oh, you were in there', and I used to say, 'Oh yeah', trying to be, you know, oh there's nothing to it like. But when I got a certain pace near it, the nerves went. So I tried it one day and I had to sit on a woman's wall, and she passed, a woman passed and asked me what had happened, and I just said, 'Oh, just got a tummy ache', never told them."