Remembering victims of the May Blitz, 1941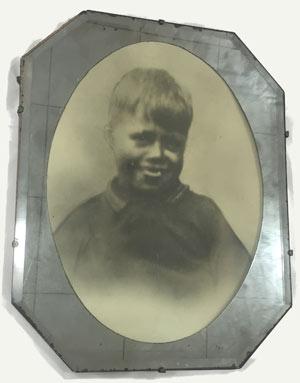 Mirror featuring image of Peter Johnson, aged 15
Here at Museum of Liverpool, we receive many generous, interesting, and often poignant donations of objects to our collections. Recently, we were contacted by a lady called Janet, who wished to kindly donate items that had originally belonged to her late grandmother, Margaret Johnson.
The items relate to Margaret's children who were tragically killed in the May Blitz, the most concentrated series of air attacks on any British city area outside London during the Second World War.
Janet tells us more: "During an enemy bombing raid on 4 May 1941, Margaret Johnson took her children, Peter (aged 15), John (aged 7) and Margaret (6 months) to safety in a shelter near their home in Wykham Street, Kirkdale. The shelter was bombed and whilst desperately trying to protect her baby daughter, Margaret kneeled over to shield her from the falling debris. Unfortunately Margaret was injured and the baby suffocated in the shelter. John was killed instantly and his older brother, Peter, was severely injured and sadly died six days later on 10 May.
Mirror featuring image of John Johnson, aged 7
Margaret was taken to hospital and her sister, Frances, had to search for the two young boys as they had become lost in the aftermath and chaos of the bombing.  John was found in a temporary mortuary in Wavertree and Peter, in Liverpool Stanley Hospital. Margaret was buried in a grave with a Canadian airman in Long Lane Cemetery, Fazakerley as there were not enough graves for babies to be individually buried at the time. Once Margaret had recovered from her injuries, she wanted to have a more permanent keepsake than a photograph to remember her two beloved sons, so she pawned her wedding ring to cover the cost of having their images put onto two mirrors. Unfortunately, because of the war, there were no photographs taken of baby Margaret so her image is lost forever.
Along with the two mirrors, Janet has also donated an employment reference from St Elizabeth's Central School for Peter Johnson, a small portrait photograph of Peter and a newspaper obituary." We are very grateful to Janet for donating these special items to enable the museum to keep the memory of Peter, John and Margaret alive and to remember the many families across Liverpool that tragically lost loved ones.
Our Liverpool Blitz photographs online feature shows how the city was affected by the bombing in May 1941.