Repairing and building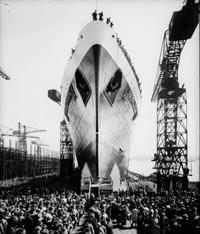 My ancestor Henry Guy was one of many Liverpool shipwrights in 18th century Liverpool where life was often short and hard. Henry, of Peters Alley, died in 1763 aged 35, just six weeks after his wife Jane. They had been married for 13 years.
I think it is very difficult for us to imagine how hard life could be for people of those days. The poor struggled to survive – the rich may have had more comfortable lives but mortality was high among all sections of the community.
With so much activity on the docks in the 19th century shipbuilding, repair and supply became important local industries.
We have recently seen the resurgence of the former Cammell Laird's yard in Birkenhead securing big Royal Navy contracts for ship repairs and renovations.
Until the 1860s wooden sailing ships and clippers were built in Liverpool's Kings and Brunswick Docks. From this time onwards, the Mersey Dock and Harbour Board took measures to concentrate shipbuilding around Birkenhead.
Liverpool concentrated on repairing ships between voyages and this employed up to 20,000 people. Thousands more worked to supply the many items necessary for successful voyages – from ropes, flags and sails to brass fittings, telegraphs, tableware and kitchen equipment.
Laird's yard in Birkenhead dominated shipbuilding on Merseyside by 1900. It built many great warships and liners including Cunard's Mauretania II in 1939 (you can zoom into a photo of the launch on our main site) and Union Castle Line's Windsor Castle (1955).
On display at the Magical History Tour exhibition in Merseyside Maritime Museum is a sailmaker's tool kit in use with the Alexandra Towing Company until 1984.
It includes:
Needles of various sizes for different jobs.
Cord and twine for sewing seams and bolt ropes. (Bolt ropes are the ropes around the edges of awnings and sails.)
Beeswax to waterproof the twine, making it easier to use when sewing.
The tool kit was stored in its own bag which was custom-made from sail canvas.
A Liverpool Shipbuilding Co brass tally dates from 1855. Nearly all shipbuilding and repair work was casual and workers were taken on only as required. However, some companies would give favoured workers such tallies so they could get work more frequently.
The Liverpool Shipbuilding Co (formerly Jones, Quiggin & Co) was one of dozens of companies in mid-19th century Liverpool building wooden ships.
There is a 1935 advertisement for J W Pickering & Sons, ship repairers. This was one of many small companies operating from graving docks scattered across Liverpool's dock estate.
A new Maritime Tale by Stephen Guy appears every Saturday in the Liverpool Echo. A paperback – Mersey Maritime Tales (£3.99) – is available from the museum, newsagents, bookshops or from the Mersey Shop website (£1.50 p&p UK).