Rescue Ships addition to Battle of the Atlantic gallery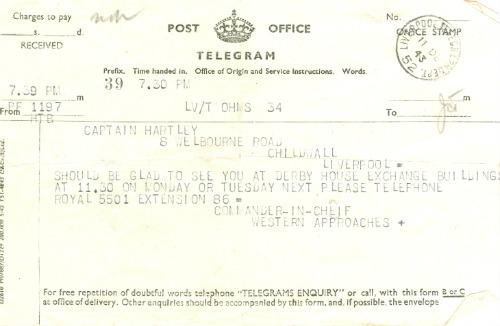 Telegram from Sir Max Horton, Commander in Chief of Western Approaches, to Captain Bill Hartley. After each voyage Sir Max would ask Captain Hartley to meet with him to tell him 'what had really happened'. Shown with kind permission of Brenda Shackleton.
Many people are familiar with the important role the shipping convoys played during the Second World War and the dangers they faced to keep Britain supplied. Shipping provided all the oil, half of all the food, and most raw materials required by Britain. By 1939 this was 55 million tons of food and raw materials per year.
The convoys were famously escorted by the Royal Navy, who worked hard to offer protection to the vital shipping, but there was another group supporting them whose role is less well known. From 1940 onwards convoys were accompanied by 'Rescue Ships'. These were usually small coastal vessels travelling with convoys to fulfil one very important role, if a ship were to be torpedoed it was their job to stay behind and help any survivors while the rest of the convoy scattered.
"It took iron nerve and cool courage to lie immobilised in the middle of an attack; an easy target for torpedo or bomb while survivors were helped on board; often a long and difficult business in rough weather and icy seas." Vice-Admiral Sir Ian Campbell KBE, CB, DSO, RN.
Iron nerve and cool courage indeed, it must have been a daunting task, knowing that at any moment they themselves could be targeted. Their courage and determination was well applied though, the 29 Rescue Ships that supported 797 convoys throughout the war saved 4194 lives. They were crewed by the men of the Merchant Navy working in the toughest of conditions, in often poor weather and under enemy fire, to save lives. The boats were fully equipped to best help the survivors, with small rescue boats, scrambling nets, hoists etc. to rescue people from the water and on board accommodation for 180 as well as a sickbay and even an operating theatre. As mentioned above the rescue ships themselves were mostly small coastal vessels much better suited to the difficult task of pulling men out of the water or from lifeboats than the larger ships in the convoy, but also much more vulnerable in the middle of the North Atlantic.
Brenda Shackleton on gallery with new Rescue Ships panel
Despite the men of the Rescue Ships accruing 130 awards, decorations and mentions in dispatches, and six of the ships being lost in action, the Rescue Ships are a sadly overlooked part of history. One woman however is determined to change this. Brenda Shackleton is the daughter of one of those decorated for his service. Her father, Captain William Joseph Hartley, was Master of two Rescue Ships, the Copeland and Goodwin, and took part in the rescue of 362 seamen. He was awarded the Distinguished Service Cross and Lloyds Silver War Medal for Bravery at Sea.
As part of her campaign for greater recognition for the Rescue Ships and the men who served on them, Brenda contacted the Maritime Museum to point out their omission from our own Battle of the Atlantic gallery. We worked with Brenda to rectify this and a new panel has now been added to the gallery, which includes a picture of Brenda's father and one of the ships on which he served.
The Rescue Ships are a part of history deserving of much greater attention than they have received and hopefully our own small contribution can help to change this. In May 1945 Admiral Sir Max Horton, Commander in Chief of Western Approaches, summed up just how important they had been and how much they had meant to the convoys and the war in the Atlantic in his expression of gratitude made at the termination of their service.
"Throughout the Battle of the Atlantic, these ships have rendered conspicuous service in the most arduous conditions. Their unfailing spirit of co-operation with Her Majesty's ships, and the high degree of seamanship displayed, has been a source of admiration to us all. The Rescue Ships have made a substantial contribution to victory in the Atlantic."