Researching Animal Mummies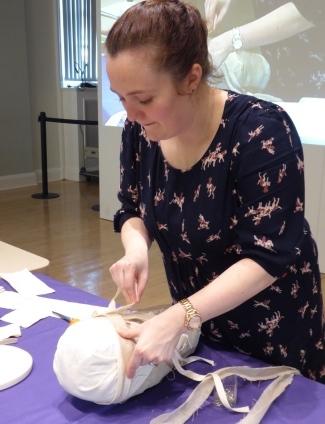 Some of the animal mummies featured in the exhibition. There are just six weeks left to see our fascinating exhibition
Animal Mummies Revealed
! Dr Stephanie Atherton-Woolham and Dr Lidija McKnight from the
Ancient Egypt Animal Mummy Bio Bank
led on the research for the project, working closely with staff here at World Museum and Kelvingrove . In this blog, Stephanie tells us more about what's involved in researching animal mummies and gives an insight into what they've been up to since the exhibition opened… "Working with ancient Egyptian animal mummies means that your days are always different! As a researcher behind Animal Mummies Revealed, we work in several different places: museum stores around the UK, a university lab and office, and with the public interested in this topic. Whilst we would love to give you a blow-by-blow account of our research over the past few months, we thought you might not have time to read it as we've been super busy! So here is an account of the highlights in our several different places of work to hopefully whet your appetite for animal mummies.
Museum stores and galleries
Close up of the elaborate wrapping "During the installation of Animal Mummies Revealed, we managed to study some of the wrapping styles of ibis mummies from the Sacred Animal Necropolis at Saqqara. This small collection of animal mummies is very important to the history of British Egyptological excavations in Egypt, and to our research, as they are part of a small number of provenanced animal mummies i.e. we know where they came from in Egypt, in UK museum collections. With the help of Conservation staff, we were able to take a closer look at the elaborate wrapping styles created out of linen with the intention of understanding how these miniature pieces of textile art were made. We knew that some of the linen applique designs were incomplete, but an interesting discovery was made by the use of cleverly positioned light, which created shadows of the original design still visible on the surface of the mummy bundle."
University lab
Experimental mummies before they were unwrapped "We have finally completed the most unpleasant part of our job: unwrapping all six of our experimental mummies. The protocol for this part of our research was to mummify and wrap in linen modern unidentified bird cadavers (an example of which you can see in the exhibition). The animal cadavers were kindly provided by the Natural History Museum Bird Group, Tring. We then used clinical imaging (x-ray and CT scans) to look inside the bundles, as we do with the ancient ones. At this stage, the protocol for the ancient and modern mummies becomes different. The ancient mummies are sometimes sub-sampled (a very small sample is taken for further study) and returned to their museum. The modern mummies however are unwrapped and the animal contents are macerated in warm water to extract the bones. This way we can compare the bones to a skeletal reference collection for identification. The bones are much easier to identify as objects, rather than as x-ray or CT images. By unwrapping modern mummies, we hope to create a databank of comparable images to help identify animals the ancient Egyptians considered appropriate gifts for the gods."
University office
"Whilst this is not always the most exciting work, it is possibly the most important. Getting our research findings onto paper and into the wider research community, and the world, is vital. Otherwise, why do the research in the first place? Over the past few months the research team have been working hard to write research papers on our findings and also creating detailed reports, including images and videos, for each animal mummy to go to museums and also, in the future, into an online, open access database. This will be an important resource and legacy for the research project and will hopefully help the study of animal mummies in years to come."
Engaging with the public
Re-rolling event at World Museum "The research team have been travelling around the UK talking about our research at conferences and study days, but some of our most important engagements with the public have been through our live experimental archaeology programme. These events took place at Manchester Museum and World Museum and transformed what we learnt from archaeological science into a practical workshop where we recreated the exterior of an animal mummy. This approach is really important to our research. It allows us to get into the mind-set of the ancient Egyptian and experience the challenges, and how to overcome them, when making animal mummies. It has been the perfect way to physically show people what we do, and allow them to ask as many questions as they like along the way. Each time we have learnt something new and through experience have improved each time. What has become particularly apparent is this: if we are to know how the ancient Egyptians created the elaborate patterns and designs, and created the shape of mummy bundles from what is seemingly very small and fragile contents seen in the x-rays and CT scans, we need to practice more of this type of research. So if you want to see revelations about animal mummies being made first hand, then we are holding a
final re-rolling event on 28 January at World Museum
. We will be putting our knowledge of cat mummies (linen ears, noses and elaborate patterns all!) to the test." Find out more about Animal Mummies Revealed on our
webpage
and check our 
events programme
 for any upcoming events. Make sure to follow us on
Twitter
for all things World Museum.