Return of the Jedi to be star attraction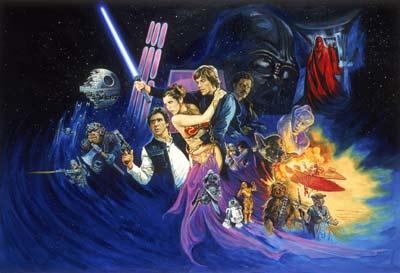 I haven't posted for a while, mainly because I've busily working on the web pages for our forthcoming exhibition, Out of this World: The Art of Josh Kirby  before I go off on maternity leave. The pages aren't ready yet – but in the spirit of the current Star Wars 30th anniversary celebrations I thought it would be good to share this spectacular artwork. Many of you will know Josh for his work on Terry Pratchett's Discworld series, but did you know that in 1983 he also created the original artwork for a 'quad' format poster for the British release of Return of the Jedi?
Now I'm no expert, although like many of my generation, the Star Wars theme still brings a nostalgic tear to my eye. But I'm reliably informed that this particular image is pretty special, as it is one of very few that features the Royal Guards (red gowns, upper right), Boushh (masked, lower right) and Boba Fett (masked, firing weapon, far left). The poster was painted for Feref from an Eddie Paul design to promote the film in Britain.
Josh Kirby also has one or two other surprises up his sleeve (do the names Monty Python or Alfred Hitcock mean anything to you?) so don't forget to check back  when the exhibition opens on 15 June or bob along to the Walker Art Gallery for a closer look.