Romans in springtime at the Museum of Liverpool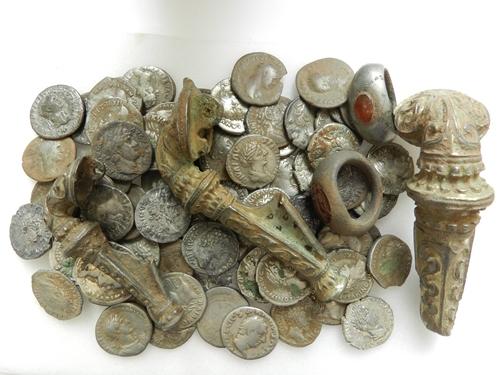 Check out the free events at the Museum of Liverpool Come and enjoy our free, fun family-friendly activities inspired by the
Roman treasures of Cheshire
display in the
Museum of Liverpool
atrium.
Click here for the full listings
. Liz Stewart, Curator of Archaeology and the Historic Environment at the Museum of Liverpool said: "The display features two hoards, both provide fascinating evidence about the wealth, trade, lifestyles and identities of people in the North West in the early Roman period. We call them the
Cheshire Hoards
.
The Malpas Hoard
, found in 2014, is a group of Iron Age and Roman coins buried in the mid-1st century AD, shortly after the
Roman conquest of Britain
. The
Knutsford Hoard
, found in 2012, consists of Roman coins and jewellery items, including three large and decorative silver gilt brooches. These items were buried in the late 2nd century AD.
The Knutsford Hoard There's events for all ages that will bring the Hoards to life, helping budding archaeologists and historians to discover the secrets buried beneath our feet in a fun, accessible way." The Cheshire Hoards were reported to archaeologists through the
Portable Antiquities Scheme
and declared treasure. They were acquired in partnership between the Museum of Liverpool and
Congleton Museum
to be preserved and displayed to the public of the North West with a generous grant from the
Heritage Lottery Fund
.