Roscoe reunion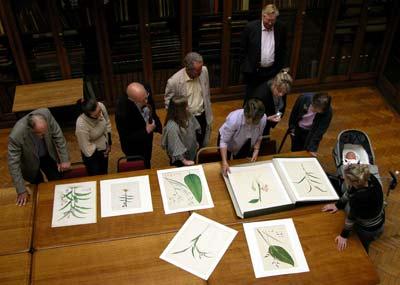 About 18 months ago John Edmondson used this blog to appeal for living descendents of William Roscoe to get in touch. Plenty of people did contact him and some met up (see John's follow up below). If you'd like to contact John about this project use this contact form.
---
To mark the publication of Jyll Bradley's book "Mr Roscoe's Garden" on the history of Liverpool's botanic gardens, and the launch of her photographic exhibition "The Botanic Garden" at the Walker Art Gallery, a reunion of William Roscoe's relatives took place on 17 September 2008. Eight descendents of the Roscoe family (the youngest only twelve days old) met at World Museum Liverpool for a chance to inspect Roscoe's cultivated plant collections from the original Liverpool Botanic Garden, after which they visited the City Library where Janet Graham, special collections librarian, showed them some of his botanical drawings in the Oak Room. The visit concluded with lunch at the Athenaeum, founded by William Roscoe in 1797.
 
Plans were discussed for a more extensive reunion of Roscoe family members in 2010, by which time we hope that the contacts established today will have led to a 'joining up' of the various family trees. One family has traced its ancestors back to William Roscoe's grandparents and beyond, to the delight of others who had been unable to progress beyond his father. We look forward to hearing from other Roscoe relatives so that we can update them with these plans.