Sea and air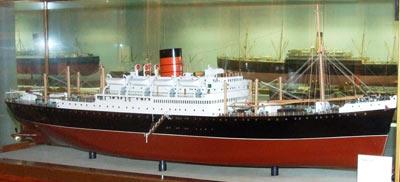 I have always enjoyed looking out for famous people going about their everyday lives. Among my coups were screen goddess Bette Davis sightseeing in Liverpool's Castle Street and Brief Encounter star Trevor Howard wolfing down beans on toast in a Southport café.
Liverpool has always been a great place to people spot – particularly in the days of the great liners.
Sea travel has undergone enormous changes in the past 50 years with the rise of cheap air travel across the globe. Liverpool was, until the 1960s, a major port for transatlantic liners. At that time I was starting work as a junior reporter, but veterans would regale me with stories of meeting film stars as they came down the gangplank.
National newspaper journalists were based in Liverpool so they could meet and interview leading showbiz personalities, politicians, business chiefs and other people in the news as they disembarked at the Princes Stage.
With the growth of air travel, the passenger liner was replaced by the jet airliner and the sea cruise liner. During this period traditional ferries were replaced by multi-deck car ferries, high-speed vessels and hovercraft. For most people travel by sea became much more a matter of choice than necessity. While luxury and style were still available on many ships, the trend was towards cheaper and more accessible transport for all.
One of the ships which fell victim of the growth of air travel was the 13,345-ton cargo liner Media, the first ship to be built for Cunard after the Second World War. She was built by John Brown & Co of Clydebank and began her maiden voyage from Liverpool to New York in August 1947. Both Media and her near-sister Parthia struggled to compete with the growing competition of aircraft in the Atlantic passenger trade in the late 1950s. They were sold in 1961.
A fine 1:64 model of Media by Bassett Lowke Ltd (shown here) is on display in the Art and The Sea gallery at Merseyside Maritime Museum. It was given by the Liverpool, North Wales and Irish region of the GMB union in 2005.
Exhibits in the Life at Sea gallery include cocktail "swizzle sticks" from Canadian Pacific passenger liners in the 1950s. A small red plastic holdall was bought on the Southern Cross sailing from Southampton to Cape Town in 1961. Less glamorous but no less evocative is a sea sickness bag from a modern passenger ferry.
A new Maritime Tale by Stephen Guy appears every Saturday in the Liverpool Echo. A paperback – Mersey Maritime Tales (£3.99) – is available from the museum, newsagents, bookshops or from the Mersey Shop website (£1.50 p&p UK).