Sefton Park bronze reliefs reconstruction update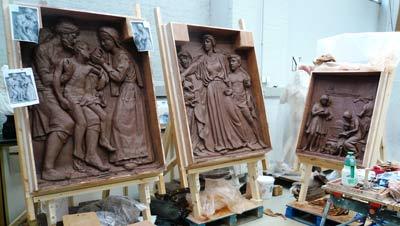 This summer our talented sculptors in the sculpture conservation department have been recreating three missing bronze panels from Sefton Park's monuments. Here's the latest news on the project from Kathy Wedge in Conservation Technologies, and pictures following the progress of the project from the beginning are on our Sefton Park monuments Flickr set.
---
"The clay models for the three missing relief panels from the Sefton Park monuments to William Rathbone and the Right honourable Samuel Smith have really taken shape now as the photograph shows. They are almost ready to be sent to the fine art bronze casting foundry.
The warm weather, although lovely for us, has caused a few problems for the sculptors to overcome. The clay has been drying out faster than normal and even started to crack in places that were more exposed to the air than others.
The way around this was to make sure that the clay was kept as hydrated as possible. Each clay panel has been sprayed with water on a regular basis and covered with damp flannelette blanket and then a polythene sheet to keep the moisture in when not being worked on immediately. Even so a few cracks were noted after a weekend break when there was nobody here to spray and it took some gentle but steady applications of water to bring them back to the right condition to be worked on. Fortunately they had not dried out too much.
On Friday 1 August the officials responsible for Sefton Park will give their approval (hopefully) for the clay models to then be sent to the fine art bronze casting foundry where they will then be made into the magnificent reliefs that will complete the monuments. More pictures will follow in a couple of weeks when they get to the next stage."