Sefton Park bronzes start to take shape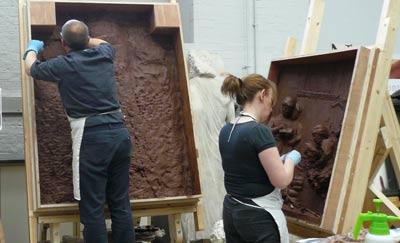 A couple of weeks ago I mentioned that the sculpture conservation team are recreating missing bronze relief plaques from two of Sefton Park's monuments completely from scratch using traditional techniques. As you can see from this photo, they are making good progress with some of the sculpted figures starting to take shape in the clay. Further photos are on our Sefton Park monuments Flickr slideshow and more will be aded as the project progresses, so do keep an eye on it. Kathy Wedge from Conservation Technologies has this update:
"The project to produce the clay master models that will be used to cast the bronze relief panels that will reconstruct the memorials to William Rathbone and the right honourable Samuel Smith is now well under way. As seen in the first pictures in the Flickr slideshow the wood supports were fixed into place to support the clay and create a rough shape. The clay has been applied and then the design was sketched out in the clay before building out the 3D contours. More wood and metal armatures have been added to support parts of the relief which are almost free standing, such as some of the arms, legs and the occasional head.
Whilst Christopher Dean and Samantha Sportun are sculpting some of the sculptures, elements which have more air around them are drying out faster than the other sections of the panels which can be quite critical to the working of the clay. For this reason both sculptors need to keep a careful watch over the condition of the clay in all areas whilst also concentrating on the area that they are working on. If it appears to be drying out too fast it is sprayed with water and when the work has to stop at night they are covered with a polythene sheet and a wet flannelette blanket.
Once Christopher and Sam are satisfied with the general shape of an area of the sculpture it can then be allowed to dry to leather-like consistency which will allow them to then develop and work on the fine detail of the relief.
So far so good, and for once we are grateful that the weather has not been too warm, but watch this space as the panels develop."