Seized! forensics display reveals secrets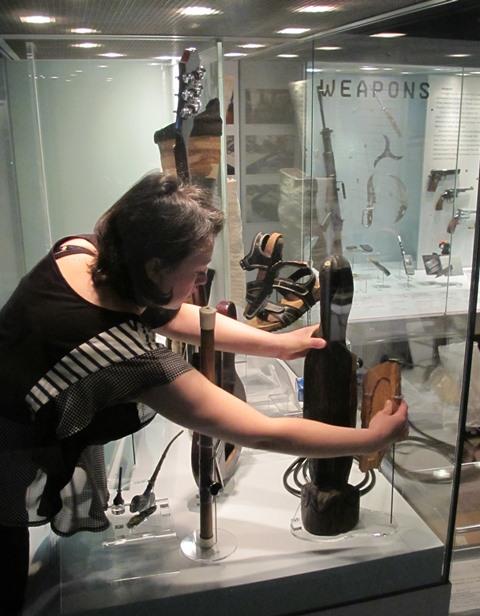 A new forensics display was added to Seized! The border and customs uncovered gallery at Merseyside Maritime Museum. Here, Steve Butler, Curator of the Border Force National Museum Collection explains the lengths criminals go to to smuggle contraband, and the ingenuity of the Border Force in detecting it. "Little did I realise on a visit to Border Force officers at Manchester Airport would the then recent seizure of a lap top start a ball rolling exploring investigation.  The lap top was delivered to me by the officers who seized it and presented it to me enclosed in a sealed plastic bag.  What was immediately apparent was the lap top was taken apart and I was seeing its inner workings stained yellow with small yellow numbered label tags randomly applied throughout.  Closer inspection with a raking light revealed finger marks near each numbered tag. I was hooked.
Installing the forensics display
I have worked with this museum for a long time and naturally have encountered many innocent looking object adapted to carry/hide a controlled item.  The ingenuity of the 'smuggler' never ceases to surprise me, the effort they will go to, the risk they will take to avoid being found out.  The laptop carried by a flight attendant, may not have been the latest model but was fully functional and the officer could even access the web. Something about the screen surround made him suspicious and he explored further. High purity heroin was found behind the screen- such effort for a relatively small quantity. Jute coffee bags labelled as if from a well regarded coffee supplier located high in the Blue Mountains of Jamaica were offered to the museum.  Once more they arrived in a sealed plastic seizure bags, the jute sacks cut open and the colourful paper labels clearly showing sign of further investigation. They had been dusted for fingerprints as had the internal wrappings still stained with ground coffee hiding a smaller plastic bag of high purity cocaine.
I was really keen to explore this part of the investigator's role, connecting the object to the person.  In doing so I have met some fascinating people on the way not least the forensic specialist who would search for the tiniest human presence. Perhaps a single strand of hair from which the unique DNA marker could be discovered. A tiny hair sample is now on display alongside the lap top in our new display which explores this theme.  I challenge you to see if you can spot the hair".
Part of the forensics display in Seized!
Lead image: Installing the forensics display at Seized!