Sexuality in the ancient world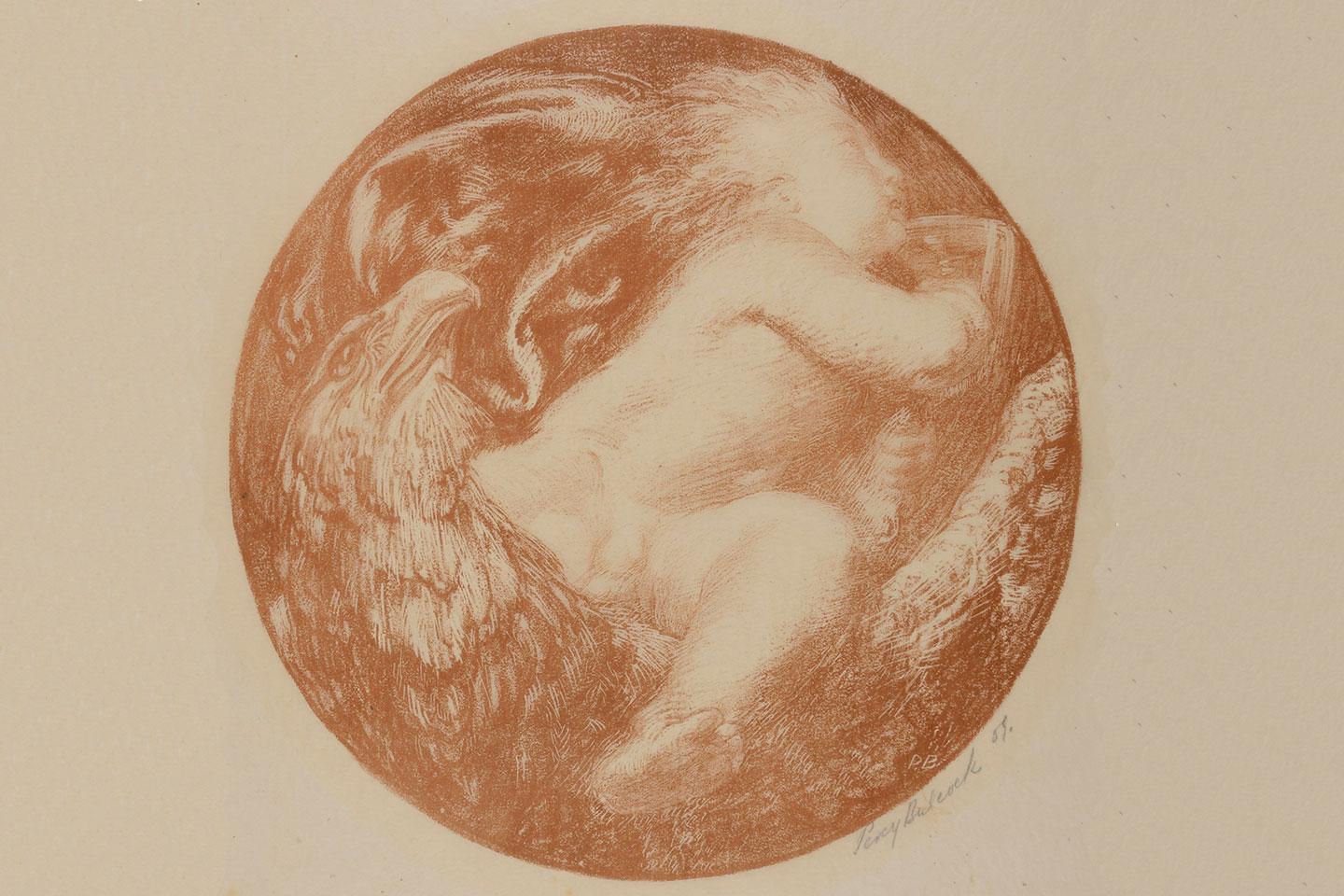 In honour of Pride month, I have combined my loves for classics and art to find my favourite pieces from the collections at National Museums Liverpool that link to real and mythical stories of same-sex love in the Ancient World.
Firstly, we have the myth of Zeus and Ganymede to accompany the beautiful print by Percy Bulcock. 'Homeric Hymn No.5 to Aphrodite' tells the story of the attractive young Ganymede who is carried off by Zeus to be his cupbearer and lover. In the Greek versions of the myth Ganymede is wise to Zeus' plans and quite willing to go. However, in later versions of the myth Ganymede is more reluctant to go, and it is this version that Bulcock seems to be depicting, with the beautifully cherubic Ganymede – feeling very much like an Eros-like figure here – turning away from the eagle Zeus. Perhaps this is because the work was produced at a time when homosexuality was not as desired or mainstream as in the idealised Greek world? This piece definitely leaves room for discussion and thought.
Now onto perhaps my favourite ancient couple - the tragic and youthful Antinous, and his lover Hadrian. Their romance stands out for many reasons - Antinous' mysterious death in AD 130 (suspected by some to be him making the ultimate sacrifice for his lover), the 2000 statues and deification process commissioned by Hadrian following this, and the very unusual public mourning by Hadrian for his young lover.
To accompany this beautiful romance are a pair of equally beautiful glass-paste medallions that caught my eye mainly for their detail. First we have Hadrian looking ever the ideal statesman, his cape pinned at the shoulder, and his wavy hair and curled beard taking on a very neat and patterned look. And then we have Antinous, looking reminiscent of those very first statues commissioned– youthful, innocent, and practically perfect. The only thing that makes these isolated pieces more heart-warming is viewing them side by side; that way, you get a sense of the feelings between the two lovers who after all this time, still can't stop looking at each other.
Finally, and perhaps most controversially, we come to the poetess Sappho. Due to how little we know of Sappho's private life and how many of her works have survived, many classicists are divided by the question, "Just how gay was Sappho?" But as female sexuality can often be overlooked when discussing same-sex attraction through the ages, I thought it would be fitting to end my piece with a quote of hers, filled with optimism and a sign that love is ever enduring.
"Someone will remember us
I say
Even in another time"

Leo Riley has just finished studying Classical Civilisation, Government and Politics, and European History at Runshaw College. She will be attending the University of Manchester in September to study Classical Studies.