Shannon and Ricketts – A Creative Partnership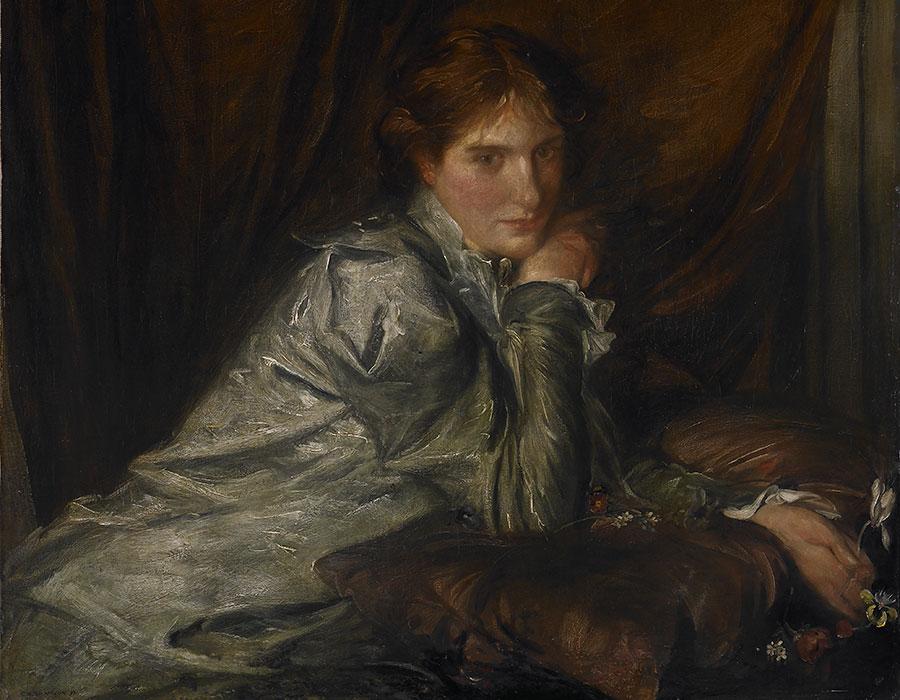 A selection of artworks by Charles Shannon and Charles Ricketts were on display in the Walker Art Gallery in 2021 as part of our ongoing Pride and Prejudice research programme.
Charles Shannon (1863-1937) and Charles Ricketts (1866-1931) first met at art school in 1882, when they were teenagers. They remained together for over fifty years, until Ricketts died. Their close relationship was both personal and professional: they designed and illustrated books, established the occasional art journal 'The Dial' in 1889 and founded the Vale Press in 1896. The Press published around 75 books, including a complete reprint of the works of Shakespeare. They closed Vale Press following a fire in 1904 when most of the book stock and decorative materials were destroyed.  
Charles de Sousy Ricketts (left); Charles Haslewood Shannon, William Rothenstein, lithograph, 1897, NPG D42655, © National Portrait Gallery, London
Shannon and Ricketts were key figures in the London art world from the 1890s onwards. They regularly hosted a wide circle of friends, including Oscar Wilde (1854-1900), William Rothenstein (1872-1945), Edmund Dulac (1882-1953) and Max Beerbohm (1872-1956). Ricketts worked as a theatre designer for George Bernard Shaw (1856-1950), including on the London premier of Shaw's Saint Joan (1925). The play examines Joan of Arc (about 1412-1431), a peasant girl who believed she had divine visions. They drove her to lead the French army in battle against the English. She was later burnt at the stake and was made a Catholic saint in 1920. Shaw presented her as a challenging, compelling woman when it was still rare to find complex female characters in drama. 
Stage Setting for Saint Joan, Charles Ricketts, Watercolour and chalk on paper, drawn about 1924, WAG 986
Together they collected fine and decorative art to fill their home in Chelsea, London. A good example of their artistic relationship exemplifying their personal one is in this study by Shannon for his painting 'The Wise and Foolish Virgins', which hangs in the Walker Art Gallery. The parable of the Wise and Foolish Virgins, from the Bible's New Testament, had long been popular with artists. Shannon and Ricketts both painted versions of it. It teaches Christians that they must always be prepared to be judged by God or risk being shut out of Heaven forever. This drawing is one of Shannon's many studies for the composition. Shannon and Ricketts both painted versions of the parable, suggesting they were fascinated by the subject. This perhaps reflected their own conflict with Christian teachings at the time about whether, as two men in a loving relationship, they were prepared to be judged by God. The prosecution and imprisonment in 1895 of their good friend Wilde for homosexual acts was a stark example of the discrimination faced by LGBT+ individuals.  
Study for The Wise and Foolish Virgins, Charles Haslewood Shannon, Chalk and gouache on paper, drawn between 1917 and 1919, WAG 7784
Shannon and Ricketts are today celebrated as LGBT+ pioneers. Like many of their peers, they were unable to publicly identify themselves as a homosexual couple for fear of persecution or even arrest. Despite this, the two men were completely committed to each other. Ricketts even gave up his own painting career as a young man so that the couple could afford to support Shannon's artistic aspirations. They maintained a spiritual and romantic relationship throughout their lives.