Shark Fin Soup sculpture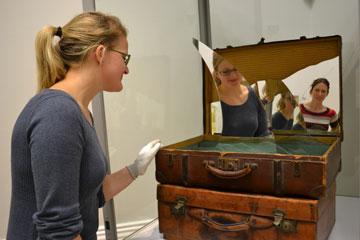 There's a lot of variety in the artwork included in 'New Works at the Walker' and we think this helps make it a fascinating exhibition. You can see everything from sculpture and paintings to video installations and costume. Here's the curator of the exhibition, Lucy Gardner, to tell us about one of the more unusual sculptures on display...
---
"This wonderful, slightly surreal piece called 'Shark Fin Soup' was made by artist Johnathan Froud. He cleverly uses mirror glass to create an illusion of space within the small confines of the suitcase. Froud is an artist know for using unusual materials to recreate and distort the reality with which we are all familiar. He wants to break away from restrictions, just as this shark fin has broken with convention by appearing to swim in this small case. This piece is an important work for Froud because it marks the point at which glass became an integral part of his work; he was fascinated with the possibilities it allowed.  In the early 1980s Froud had been experimenting with the sculptural properties of diverse materials as unusual as spaghetti and glacier mints! Froud was artist in residence here at the Walker in 1984 , but it was not until 2007 that we bought this piece, with the assistance of the Contemporary Art Society."
Find out what else is on display in the exhibition here.