Simeon Solomon's 'Mystery of Faith'
'Mystery of Faith', Simeon Solomon.'Pride and Prejudice Project Researcher, Lynn Wray, shares some insights on Simeon Solomon's 'Mystery of Faith' from the Lady Lever Art Gallery's collection'.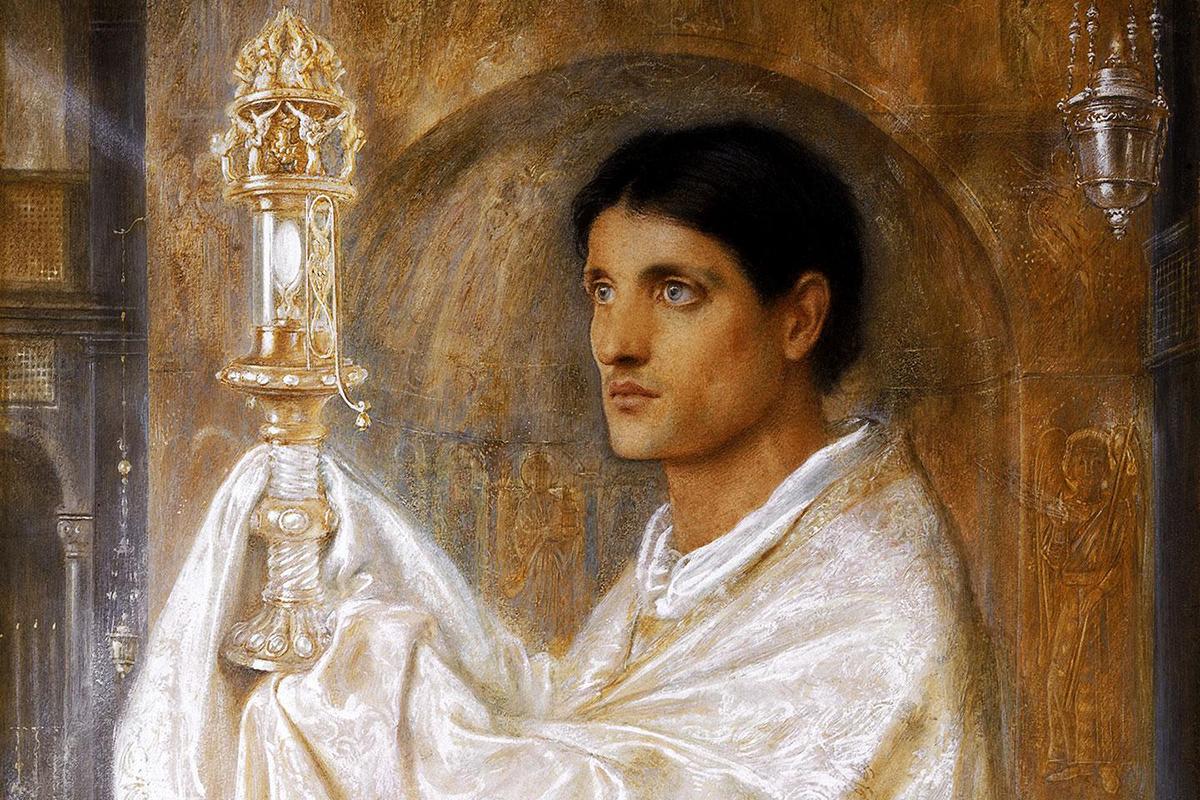 Simeon Solomon was both famously beautiful and infamously rebellious. Born in London in 1840, he became particularly attracted to Christian themes despite his Jewish upbringing. Solomon's artistic talent, youthful good looks and natural charisma enabled him to gain acceptance within the Pre-Raphaelite brotherhood. He befriended fellow artist Edward Burne Jones (1833-98) — whose representations of graceful, androgynous young men he greatly admired — and the controversial poet, Algernon Charles Swinburne (1837-1909). It is uncertain whether Swinburne and Solomon became lovers, but it is known that their close, intimate relationship was based as much around their interests in 'deviant' sexual practices as on their taste in art and literature. Swinburne was famously fascinated by sadomasochism, whilst Solomon lived unusually openly as a homosexual at the height of Victorian morality.
Solomon's luminescent watercolour 'Mystery of Faith', which features in the Pre-Raphaelite exhibition, also embodies both beauty and rebellion. Painted largely in white and gold, it radiates with divine beauty.
However, the sublime beauty and religious content of the painting is not mere decoration: Solomon used it with the specific intention of rebelling against the repressive morality of Victorian society and legitimising same-sex bodily contact. It is argued that Solomon used the Roman Catholic ritual of Benediction, depicted in the painting, as a metaphor for same-sex intercourse. In Benediction the priest elevates the Eucharistic wafer (unleavened altar bread) in a monstrance (an open and transparent vessel used to make the wafer visible to the congregation). The wafer acts as a 'host', which is believed by many Catholics to be transformed into Christ's body. The wafer is then dissolved in the mouths of congregation to show their physical and spiritual acceptance of Christ.
The 'Beauty and Rebellion' exhibition Writing in 2010, Art Historian, Dominic Janes, proposed that for the male members of the congregation, what is offered in the (notably phallic) monstrance is the possibility of physically consuming another man (Christ)*. He contended that Solomon depicted the ritual in such a sublimely beautiful way in order to specifically reframe male-on-male intercourse as a form of purification. For an artist like Solomon, attempting to bring together same-sex desire and religious themes, at a time when sodomy was still illegal, would have been extremely risky. His attempt to create a culture which openly celebrated gay desire was just too radical for his day. Three years after Mystery of Faith was completed, Solomon was arrested for engaging in homosexual acts in a public urinal. Though he was released after pressure from friends, his reputation was ruined. He lived intermittently in St Giles's Workhouse in London, as a 'broken-down artist', before dying aged 65, from a heart attack brought on by bronchitis and alcoholism."
Pride and Prejudice
"Bringing to light alternative views of paintings such as this is one of the most exciting parts of working on our Pride and Prejudice project, which aims to identify the hidden LGBT stories and themes within our collections. Though I have been consistently amazed by how LGBT artists have developed new creative forms to deal with the repression of the expression of their sexuality or gender identity, I have also been saddened to contemplate just how many artists' lives and careers have been prematurely cut short as a result of prejudice. We hope that by celebrating the creativity of gay, lesbian, bisexual and transgender artists, and by making same-sex love and desire more visible in our online collections, we can help to challenge such prejudice."*
*Janes, Dominic (2010) Seeing and tasting the divine: Simeon Solomons homoerotic sacrament. In: di Bello, Patrizia and Koureas, Gabriel (eds.) Art, History and the Senses: 1830 to the Present. Surrey, UK: Ashgate, pp. 35-50.