Sisters in the struggle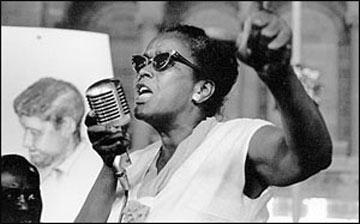 On Monday Vikky Evans-Hubbard from the International Slavery Museum is giving what promises to be a fascinating free talk about some of the heroines of the civil rights movement. She told me why this is such an important subject:

---
"When talking about the American Civil Rights Movement, the first names that spring to mind are Martin Luther King Jr and Malcolm X.
But what do we know about the women that worked alongside them?
Rosa Parks' act of defiance sparked the Montgomery bus boycott and laid the platform for the then young and inexperienced Dr King to rise to prominence. Parks was actually a civil rights activist of many years standing, when she refused to give up her seat, and had been a guide a mentor to Luther King during that time. Though hailed as the great civil rights heroine she undoubtedly is, Parks was not allowed to speak at the March on Washington in 1964, she was merely told "You have done enough".
In fact there was no female speaker on that momentous day (the entertainer Josephine Baker said a few words) though there were many powerful women working in the movement who could have spoken. It is apparent that female members of the civil rights movement had not just the evil of racism and segregation to contend with, but sexism as well, often from Brothers within the movement. Women were expected to step aside and let a few charismatic male leaders do the talking and be the public face of their hard work and dedication.
This Monday, 17 January, is Martin Luther King Day. At 2pm in the Campaign Zone, the talk 'Not just Rosa Parks' focuses on three heroines of the civil rights movement who you may not have heard of and definitely haven't heard enough about; Septima Clark, Ella Baker and Fannie Lou Hamer.
These women worked tirelessly to make landmark strides in their areas of activism: equality of education, creation of the SNCC (protest group for students/young people) and voter registration rights. Their vital contributions to the movement remain largely unknown, (though Mrs Hamer has a place on the International Slavery Museum's Black Achievers Wall!) but cannot be underestimated. Landmark victories of the movement at this time would not have been won without their selfless work and dedication given, in the case of Fannie Lou Hamer, at immense personal cost.
Come along to the Campaign Zone on Monday and find out more...
Behind every successful man, there is a strong woman!"