Slavery Remembrance Day Festival 2009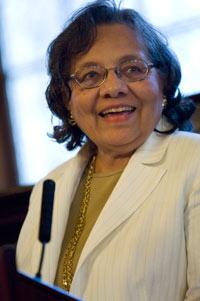 Here's a special report on this year's
Slavery Remembrance Day Festival
from our 'woman on the ground', Claire Benjamin:
---
"Over 5000 visitors enjoyed a weekend-long programme of events during the Slavery Remembrance Day Festival 2009. Held from 21-23 August, it got off to a powerful start with the annual lecture delivered by civil rights activist Diane Nash at Liverpool's Town Hall. Vikki Evans-Hubbard in role as the young Diane performed a section of 'Keep Your Eyes On The Prize', a dramatic retelling of her struggle as a student, before introducing the real Diane Nash to the audience. 'Keep Your Eyes On The Prize' is staged regularly at the International Slavery Museum, check the Events and activities page to find out when you can see it next.
Diane spoke about the influence Mahatma Ghandi's teachings on non-violent protest had on her when she was a student in Nashville, USA, during the late 1950s and 60s. It was inspirational the way she described how it helped to transcend the horrors of racism and eventually effect a positive change. As a key figure in the birth and development of America's Civil Rights Movement, her efforts to fight against injustice and inequality saw her beaten, fined and, when four months pregnant, sentenced to two years imprisonment for teaching these non-violent protest tactics to children. She was thankfully released on appeal. Her belief in Ghandi's teachings has influenced her own personal philosophy throughout her life and when responding to questions from the audience, she gave us all much to think about.
 
The two-day programme at the International Slavery Museum and Merseyside Maritime Museum saw visitors enjoying exhibitions, dance workshops and demonstrations, face-painting, wood-carving, music, poetry, films and plays. Stalls selling crafts and Afro-Caribbean food proved very popular. In the Maritime Museum organisations including the British Red Cross, Amnesty International, Merseyside Police, Christian Aid and Anti-Slavery International promoted community and human rights issues, reminding visitors of the themes that underpin the Slavery Remembrance Day Festival. The Libation ceremony, which has always been the focal point of the weekend, was held near to the Piermaster's House and was led by Chief Angus Chukuemeka alongside elders and community leaders from Liverpool and London.  The Libation commemorates and remembers the lives of enslaved Africans and their descendants and celebrates contemporary Black culture – one of the legacies of the Atlantic slave trade. 
 
The event's return to the Albert Dock proved to be popular and we were helped by the good weather, which despite the clouds, remained mainly dry."