Squaring up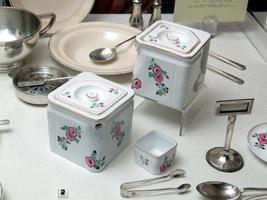 My perfect cup of tea is made from loose leaves spooned carefully into a warm teapot before being drenched with water just off the boil. I'm interested in all aspects of the quest to make the perfect brew. This is mission impossible because what makes a great cuppa is very subjective. My grandmother hated weak tea, calling it maiden's water.
Entrepreneur Robert Crawford Johnson discovered how to avoid spilling your tea while on board ship – he invented a square teapot that would not tip over. For years designers had wracked their brains to create the ideal teapot for sea travel. What was needed was one that didn't drip the golden nectar when poured, would not overturn in rough weather and could be easily stored without chipping the spout. Rather than change the whole design, other designers concentrated on one of these defects in their endeavours.By creating a square teapot with the spout neatly tucked away in a corner, Johnson solved all the problems at once.
He registered his Cube Teapot in 1917 but it was not put into production until 1920. Some other companies decided to muscle in on Johnson's brainchild by producing similar pots which were not under licence. Johnson hit back by forming Cube Teapots Ltd in 1925 under an Accept No Imitations marketing banner. Sales stunts included a "living window display" featuring a lady pouring the perfect cup of tea from a Cube Teapot.
Square teapots were adopted by major shipping companies such as Cunard. There are several featured in displays at Merseyside Maritime Museum – they were used on the Queen Mary and earlier Cunard ships. Plant's Bird of Paradise pattern dates from the 1920s. It was mixed freely with the Pink Rose pattern (pictured) on ships such as the Aquitania, Mauretania and Ausonia II.The designs were still in use on the Queen Elizabeth 2 at late as 1968 although the pattern and manufacturers changed over the years.
The Queen Mary was the first British liner to embrace the Art Deco style embodied in ivory-coloured tableware with touches of golden brown, grey and black. Jewish passengers were catered for with a kosher kitchen and separate crockery. A kosher coffee cup and saucer are inscribed "meat" in English and Hebrew.
In the Titanic, Lusitania and the Forgotten Empress gallery can be seen a First Class china coffee cup and saucer of the same design used on Titanic.
---
A new Maritime Tale by Stephen Guy appears every Saturday in the Liverpool Echo. A paperback – Mersey Maritime Tales (£3.99) – is available from the museum, newsagents, bookshops or from the Mersey Shop website (£1.50 p&p UK).
Image courtesy of the Liverpool Daily Post & Echo.