St John Plessington's Fresh Perspective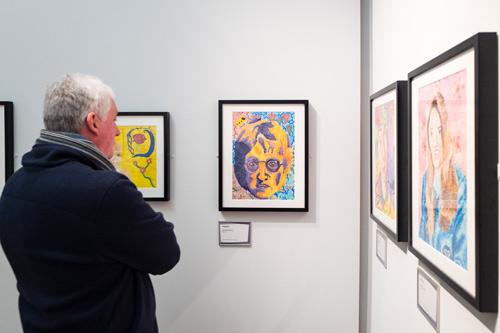 With the exhibition underway we thought it would be good to get the views of the teachers and students who are involved in
Fresh Perspectives.
Our first blog comes from St John Plessington Catholic College. We hear from Head of Art, Martin Regan and some students whose work is on display in the gallery. Martin gave a background on what the students have been working on in class and how this expanded into the exhibition at the
Lady Lever Art Gallery.
"At St John Plessington we involved our new GCSE Year 10 group in the
Fresh Perspectives
exhibition. They were really excited and enthusiastic about the prospect of exhibiting their work so early in the course, amongst the work of famous artists at such an esteemed venue. The paintings in this exhibition are based on the theme of portraiture. The student's learning was primarily informed through contextual studies, focusing on the 'Neo – Impressionist' art movement.
The students have explored the 'Pointillist' technique, a system of defining 3D form through the application of dots of pure or mixed colours. These colours are not blended on the surfaces of the paintings in a conventional way, but aim to coalesce and merge on the retina of the viewer's eye to establish a convincing image. However, our aim was to further enhance the aesthetic appeal of the paintings and our student's learning, by incorporating other influences. I think that their passion for the project is reflected in the attention to detail that is evident in the student's paintings." We asked students from St John Plessington Catholic College how they feel about being on display at the
Lady Lever Art Gallery
and their inspirations: "It is a completely new experience which is quite exciting to be a part of. It feels good to be included in something that brings different schools and different types of creativity together.", Chloe Tuite, student from St John Plessington Catholic College. "The horror and tragedy of war has always interested me, and I especially like the poetry of Wilfred Owen who lived on the Wirral as a child.", Keiran Igoe, student from St John Plessington Catholic College.
"I took my inspiration from looking at photos of myself and reflecting. I wanted to present myself in a lighter, more cheerful disposition by adding flowers and vibrant colours." Molly Goodwin, student from St John Plessington Catholic College. This is the third time that the exhibition - which runs biennially - has been held at the Lady Lever Art Gallery, showcasing the breadth of creative talent held by young people in Wirral. If you still haven't seen the
exhibition
, it runs until 1 May 2017