Statues and sea-life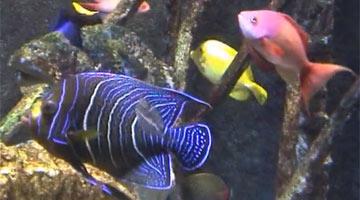 It's time to peer back into the mists of time again in our series of blogs celebrating World Museum's 150th anniversary...
On 16 March 2004, during building work on a new entrance and atrium, a traffic warden threatened to give a parking ticket to the crane moving exhibits at the front of the museum in William Brown Street!
Two, two-metre black stone statues of the Egyptian Goddesses Sekhmet were taken from display in the museum's current entrance and craned down the street to the new entrance. The operation was followed by a photographer from the Liverpool Echo, and he photographed parking attendants as they threatened to fine the crane driver. On 17 March the story appeared in the Echo under the headline 'Warden tries to book crane as it moves museum statues'. On the next day the story was picked up by the Scotsman, Daily Mirror, Daily Express and several regional papers. The Sun ran a picture story and the news went round the world to the Sydney Morning Herald.
The final story from the archives for this week looks back to 19 March 1857. On this day, the curator of the museum went to a meeting of the Liverpool's Library and Museum Committee to ask for permission to buy some tanks to start up an aquarium in the museum. The minutes of the meeting recorded his request; 'The curator was authorised to order three additional Aquariums at the cost of £14.50'. It was only the second public aquarium in the world - the first was in London Zoo. In October the curator reported that the installation of aquarium tanks had led to an increase in the number of visits to the museum. The archives reveal that;
'During the year, several Aquaria, both salt and fresh water, have been established in the Museum, and have proved of very great interest to the visitors; indeed there is good reason to suppose that it is mainly to the new additions to the Museum that the number of visitors has been so much in advance of previous years.'
Our aquarium is still incredibly popular today. You can watch a video of Rachel Ball (our Aquarium Curator) showing us behind the scenes at the aquarium here.