Structural treatment of the 'Falaba' painting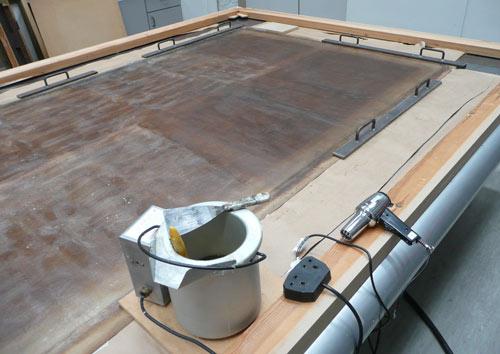 To stretch it, the protected painting was placed face-up within a wooden loom frame on the multi-purpose lining table before wetted brown paper strips were attached around all four sides. As these were drying, the table was set to provide moisture underneath the canvas to relax it slightly during the stretching process. Curator Ellie Moffat recently blogged about the centenary of the sinking of the 'Falaba' during the First World War. In her blog post she mentioned the large painting of Falaba which has just gone on display in the exhibition
Lusitania: life, loss, legacy
. Preparing the painting for display was quite a large job, not just because of its size, but also because it was not in a very good condition after suffering water damage many years ago. You can see photos of the painting before it was conserved and read my initial assessment of it in her blog post 
Centenary of the sinking of Falaba
. This is the first of a series of blog posts following the story of how I restored the painting.
After moisture treatment, the canvas was re-stretched onto the loom for a second time with paper edges with the painting face-down, ready for the process of wax-resin impregnation. The streaks from the 1970s water damage can be seen as darker lines running across the back of the canvas. The main priority was to resolve the very poor attachment of the paint to the canvas given that the ground layer had become very powdery. I decided it would be virtually impossible to clean the surface safely without reattaching the loose paint, so I had to start the process of structural repair. First of all I replaced the old wax-resin facing with a new one, and then set about moisture treating the canvas – this was necessary to reduce surface distortions and reverse the slight shrinkage to the canvas caused by the previous water damage. The painting had to be stretched on a large wooden loom, held at the edges by strips of wetted brown paper – the idea is that as the paper dries, it shrinks, exerting a pulling force across the whole canvas. At the same time, with the painting sitting over our multi-purpose lining table, extra moisture was fed through the table to the back of the canvas to help it soften and respond to the tension from the tightening paper edges.
This shows the wax-resin adhesive being heated up gradually across the back of the canvas, to make sure it was fully absorbed into the fabric to re-secure the paint layers. The darker area at the right is where the brushed on wax has then been heated with a heat gun to impregnate the canvas – a very hot job! Once this was complete, I could turn the painting over and work on the back. With the canvas still under tension, I then applied a heated solution of wax and resin adhesive to the entire back surface of the canvas. Then with the lining table heated up, I used a hot air gun to fully melt this adhesive mixture into the back of the canvas. This looks scary to do, as it seems as if the paint might be melted, but the skill is to apply heat quickly enough to melt the wax-resin into the canvas without harming the paint. It's also pretty hot work, and took about 3 to 4 hours to go over the entire surface, by which time I was in need of some water! The painting was then moved over to a large table for cleaning, as this would have to be done before the painting was lined onto its new support – if I had done the lining first, the solvents used for cleaning might have dissolved the adhesive. Keep an eye out for my next blog about cleaning the painting next week.