Talk Tuesday: John Moores 2016 artist, Enzo Marra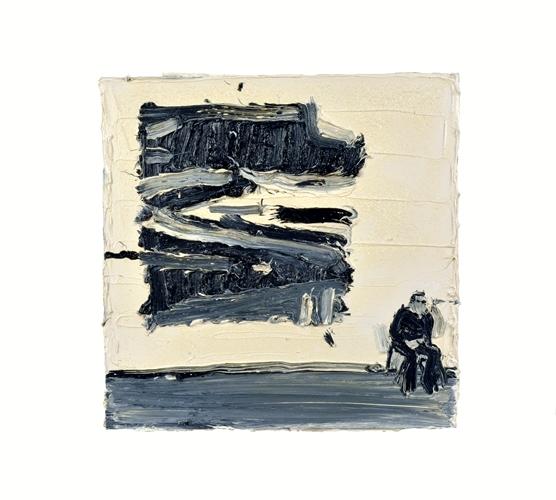 Invigilator (John Virtue), 2014, Enzo Marra Enzo Marra was selected to exhibit in this year's John Moores Painting Prize with his painting, 'Invigilator (John Virtue)'. It's the second time that Enzo's work has been selected (he first exhibited in 2012). We caught up with him to find out more about how he works, ahead of his 'Talk Tuesday' event happening at the Walker Art Gallery on Tuesday 30 August. How does it feel to be selected for the John Moores once again? I feel that having been selected for a second time is a further affirmation of the development of my work, and an added impetus to follow up recent discoveries in my studio. The international aspect of the John Moores gives the artists involved a greater visibility and allows me to think forward on a more global basis. What has changed for you as an artist since the last time you were in the John Moores?
I feel that it has given me a greater visibility in the art world, and that it has allowed me to be considered for a greater number of opportunities than might have been previously possible. The accolade of being involved in the John Moores is something that can't be underestimated.
What inspires you?
In terms of imagery that inspires me, I am always trawling the internet for anything that has a compositional strength, that I feel would convey well when drawn or painted. I also frequently take surreptitious photos of observers in galleries to have a greater role in the sourcing of viable imagery.
Why paint?
I feel it is the most natural way for me to express myself. The textural possibilities of oil paint and the spare tonal qualities that can be achieved with acrylics, are always suggesting further ways that my approach can alter and develop. The immediacy which is possible when using paint also allows the process to be alive and open to become scraped off disaster or seemingly effortless success.
What do you hope visitors will take away from your work in the John Moores? Do you hope for a certain reaction?
I hope that they will react equally to the tonal and textural qualities that occur over the canvas, and the subject matter which is visible through the pigment. The imagery is immediately connected to the space it will be shown in, the activity of invigilator amongst artworks set to be mirrored in reality. If visitors react to the work in terms of application or subject matter, then I will feel the work is communicating well. When the painting is on gallery wall is when it really comes alive and can communicate in a wider way.