The temple boys of ancient Cyprus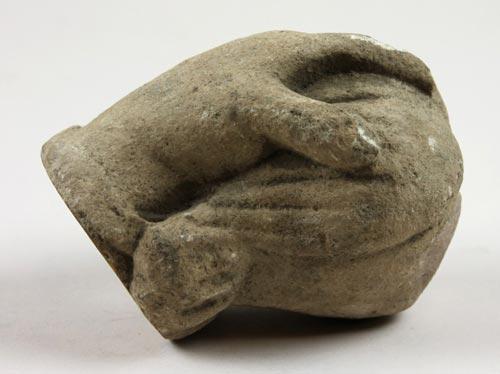 Curator of Classical Antiquities, Chrissy Partheni tells us of her work on this fascinating sculptural collection from ancient Cyprus. "Over the last 12 months I have been working on digital records of our antiquities collection of ancient Cyprus limestone pieces. My first encounter with this collection was seeing lots of boxes in our store, filled with sculptural pieces, mainly heads, all made in limestone, a chalky but light material.  The collection was donated to us in 1872 by Captain Fothergill. We have 125 limestone pieces in total with 11 "Temple boy" statuettes being particularly interesting.  
Temple boys (and in a very few cases girls) are found in museums and collections across the world and have been studied extensively. They are so-called because researchers initially thought they represented servants to the gods.  It is thought that they are children because of their faces, which are usually smiling. (Unfortunately all the examples in our collections are missing their heads!) Temple boys may also hold toys, for example, a ball or offerings like fruit or they may be stroking animals, such as birds. The temple boys were probably used as votive offerings in sanctuaries across ancient Cyprus, in Apollo Hylates, Kourion, Lefkonico, Golgoi, Idalion, Voni and Chytroi.  Their religious significance is evident from the amulets and the signet rings of their necklaces. The back of the statuettes is often very flat and this may be an indication that they were only meant to be viewed from the front or placed within an architectural setting.
Fragment of temple boy with an offering They are always shown in a similar position, not always a very comfortable one, with their left leg crossed at the front of their body and the right leg bent and to the side of the body. Their posture may have been chosen to indicate their young age, perhaps the stage before the children walked. Many of the children wear long chitons, and in many cases expose their genitalia. Although there have been different interpretations of this, the most widely accepted view now is that the statues were offered to mark the passage of young infants into childhood. Traces of red colour can also be found on their bodies, clothes, heads and hair. It was easy for me to see this on some of the statues, but for others, it could only be seen with the help of photographic lamps. On Friday 30 October, I'm taking in part in this conference: 
Cyprus: Its Archaeology and Heritage
, organised by the Cyprus Centre of London Metropolitan University and will be talking about our collection there. I am pleased to say that you can also now see the temple boys and other pieces from our
collection of ancient Cypriot limestone pieces
 online."