#Thankstoyou - Free entry to Taki Katei for lottery ticket holders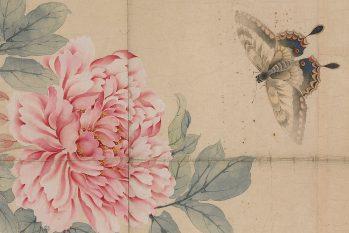 Step back in time to 19th century Japan with the exquisite artwork of Taki Katei, and from 23 November to 1 December, National Lottery players will be able to see this stunning exhibition free of charge at World Museum.
Visitors who bring a lottery ticket to the Museum during those nine days will be offered free entrance to the exhibition, and the opportunity to explore the work of this remarkable artist, shown for the first time outside Japan.
Delicate drawings and paintings on silk depict the beautiful flora and fauna of the country and demonstrate why Katei became a favourite of the Japanese Imperial court.
National Lottery players have contributed to National Museums Liverpool in a variety of ways. From the development of the International Slavery Museum in 2007 to the refurbishment of the Lady Lever Art Gallery's South End (2014), the unwavering support of National Lottery has made a huge difference to a variety of our projects, both big and small.
This is why we are very pleased to be part of the #thankstoyou campaign and mark 25 years of The National Lottery with free entry to this special exhibition.
Terms and conditions
The offer is valid from 23 November to 1 December 2019.
Tickets for Drawing on Nature: Taki Katei's Japan will be issued on presentation of a valid lottery ticket/ scratchcard at the ticket desk on the ground floor of World Museum and cannot be pre-booked online or over the phone.
Drawing on Nature: Taki Katei's Japan is open daily from 10am with last admission into the exhibition at 3.30pm with the building closing at 5pm.
Visitors must present one valid Lottery ticket/scratchcard per person, this will redeem one ticket only.  How many draws entered on each ticket will not be taken into consideration.
All National Lottery games qualify, including tickets for any National Lottery draw-based game (Lotto, Euromillions, Set For Life, Thunderball, Lotto HotPicks and Euromillions Hotpicks) or any National Lottery Scratchcard. Tickets for any other Lottery do not apply.
The date of draw / purchase is not relevant.
Lottery tickets must be original. Photocopies are not valid.
Digital tickets are valid. Please present an email confirmation or receipt of purchase.
The offer applies to exhibition visits only and does not include guided tours or special events.
World Museum has the right to refuse entry in the unlikely event of the exhibition reaching capacity, as well as unforeseen circumstances.
Not to be used in conjunction with any other offer.