Thrown out of his village: now bringing hope to thousands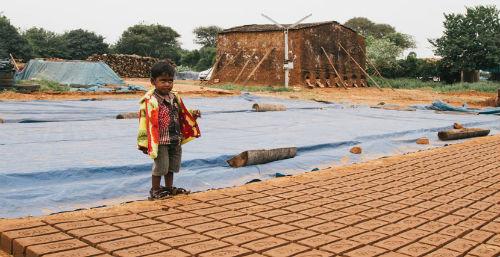 Kumar Swamy is South India Director for the
Dalit Freedom Network
and is responsible for oversight of a range of on the ground education, healthcare and economic programmes run for the benefit of Dalit communities in India. These trafficking prevention projects are helping to bring about real change - not only freeing Dalits from modern forms of slavery, but freeing them from the factors that make them so vulnerable to exploitation and abuse in the first place. Here Kumar tells us of the challenges he faced growing up as a young Dalit boy in India, and of the work going on to bring about meaningful and long-lasting change in the country he loves. "I met some of the people involved in making the film
'Kavi'
when they started filming several years ago, but I had no idea that the film would win so many awards, let alone be nominated for an Oscar. But after watching 'Kavi' several times now, I am struck by how much this fictional film reflects reality still for far too many children in India. It tells the story of a young boy trapped in bonded labour along with his family working in a brick kiln. It depicts how many are still exploited and abused. I have seen it for myself far too often. There is much in the story that indicates that Kavi is a Dalit, and sadly in my country it is mainly
Dalits
and tribal people, and others from poor and oppressed communities who still find themselves being exploited in this way. Why is this? Alongside the poverty that many of them experience, they find themselves marginalised and excluded. These are experiences that I know only too well from my childhood.
When I was growing up in India I went to school, but I was made to sit outside the classroom, not because of anything I had done, but simply because I am a Dalit. It made me feel left out, isolated. I would put my hand up to answer questions, but the teacher would not look at me, he would not answer me, instead he would totally ignore me. That's the bitter memory I have. I can remember when I was 11 or 12, I was playing cricket with some of my friends. It is so vivid. I accidentally bumped into another boy. Even though it was an accident, he yelled at me, "You dirty Dalit dog". I became so upset, so angry that I gave him a whack with the cricket bat. You might think it would be forgotten as just a playground spat, but there was a big commotion in the village as the story spread that a Dalit boy had beaten up this boy. They had already decided that I was guilty. They said that I had to leave the village immediately. Within the next 24 hours my family had to get out and leave our home. That left a deep wound in my heart.
Being so poor, and so marginalised and excluded, it is little wonder that so many are vulnerable to trafficking and bonded labour.
I love my country. It is a great country, and I am proud to be Indian, but this saddens me still and I want to do all that I can to
make a difference
. I am convinced that getting a good education really does help to prevent trafficking and bonded labour. It helps children to get better paid jobs, but more than that it gives them self-belief, self-esteem and dignity, and teaches them to respect everyone. That's why I am so glad that with the help of people all around the world we have been able to build and run over a hundred schools in such communities. Over 25,000 children and their families benefit from this. I see their happy faces, I see changed lives and hope for the future. It shows what Indians are capable of, and that makes me very proud."
Broken Lives - Slavery in Modern India
is being exhibited now at the International Slavery Museum. An extensive programme of
FREE talks and events
accompany the exhibition.
Find out more
about supporting Dalit Freedom Network and other partners involved in trying to eradicate slavery in modern India.