Titanic survivor's apron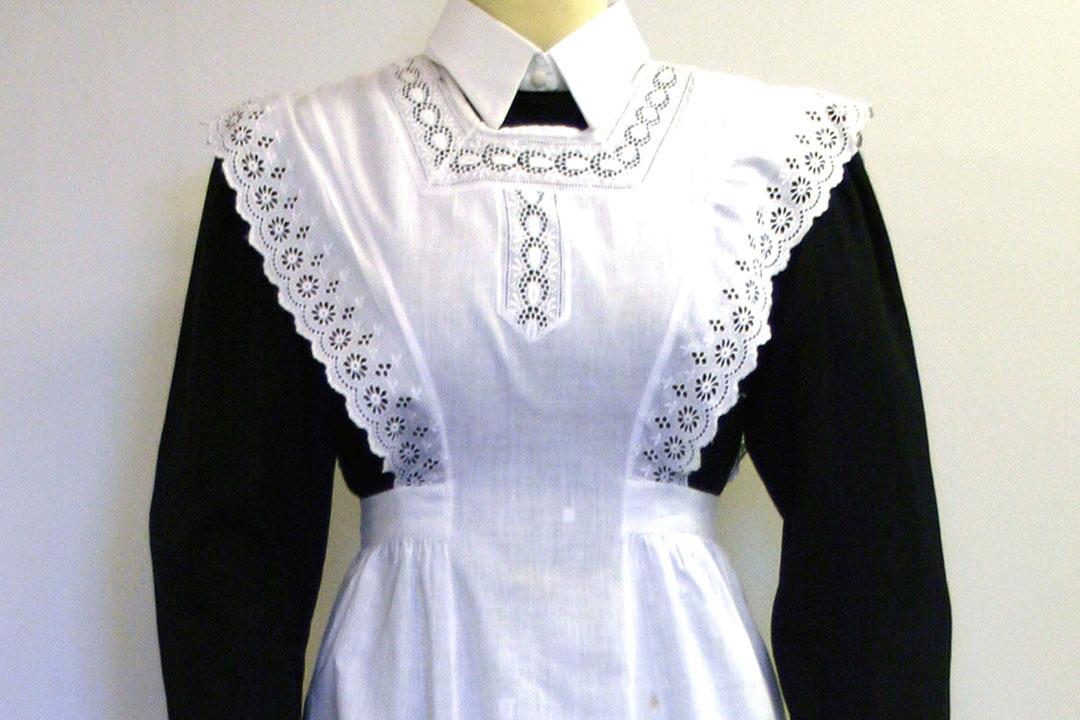 I have an open mind about psychic happenings and the alleged auras that surround people and things. A simple apron from a distant time has a profound effect on me. Whenever I stand next to it I feel the icy blast of the sea, hear the cries of people in distress and experience a sense of despair.
The starched white apron bears silent witness to the terrible night when the luxury White Star liner Titanic hit an iceberg and sank with the loss of more than 1,500 lives.
It is among exhibits in the Merseyside Maritime Museum's exhibition Titanic and Liverpool: the untold story which looks at this great shipping tragedy. 
The full-length cotton apron, with lace-trimmed top, was worn by survivor Laura Francatelli on the night of the disaster. It may be the only item of such clothing on display in a public collection.
Miss Francatelli was personal maid and social secretary to the fashion designer Lady Lucile Duff-Gordon. Miss Francatelli was travelling First Class with her employer and Sir Cosmo Duff-Gordon, baronet, a champion fencer who represented Britain in the 1908 Olympics. They boarded the ship at Cherbourg travelling under the names Mr and Mrs Morgan, presumably to prevent them being pestered by social climbers.
Miss Francatelli and the Duff-Gordons were among the first to escape from Titanic. They boarded Lifeboat No 1 which had just two male passengers and seven crewmen although it was built to hold many more people. On board the rescue ship Carpathia, Sir Cosmo asked Miss Francatelli to write out £5 cheques to each of the seamen who were in the lifeboat. This led to allegations of bribery.
However, the British inquiry stated that the nature of the Duff-Gordons' departure from Titanic was "within the acceptable bounds of civilised behaviour". Also on display is a photograph of the occupants of Lifeboat No 1 taken on board Carpathia. Miss Francatelli, who later married and lived until 1967, is pictured standing between Sir Cosmo and Lady Duff-Gordon. 
Most of the Titanic's crew from the Liverpool area were lost in the sinking. On display are personal items linked to local crew members who died. A Bible, pipes and smoking accessories belonged to junior second engineer John Henry Hesketh, a 33-year-old single man from Kirkdale, Liverpool.
A poignant letter was written by a young girl called May Louise McMurray to her dad William McMurray, a bedroom steward from the city's Kensington district.