Titantic - star of the silver screen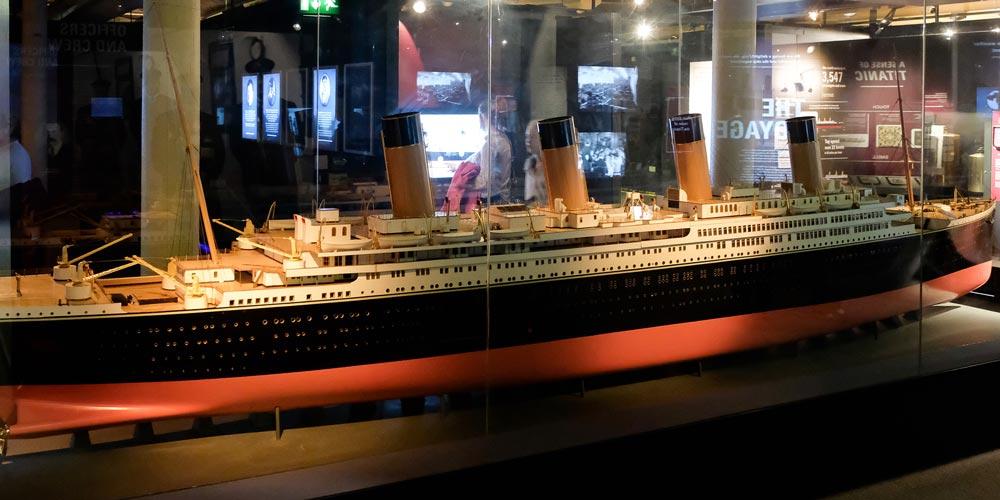 Today we're looking back to 21 May 1957 for our celebration of the World Museum's 150th year. 
On this day in history, our Titanic model set off from the museum for Pinewood studios to star in the film 'A Night to Remember'.  The model is now on show at the Merseyside Maritime Museum where its label says:

This is the unique, full builder's model of Olympic/Titanic.  It was built at the Harland & Wolff shipyard in Belfast at the same time as the sister ships concerned.  Originally named Olympic, it was used by White Star to advertise both ships.  After the Titanic disaster the model was altered to represent Britannic, the third ship of the class, which was sunk while serving as a hospital ship during the First World War. 
The rearrangement of windows on the upper decks was the most lasting change made.  In the 1920s the model was altered again to represent the refitted Olympic. Having later been stored and displayed at Blackpool, the model was given to Liverpool Museums in 1951 (but not actually brought to Liverpool until a few years later).  In the early 1980s it was restored for display in the Maritime Museum as Titanic.
There is another interesting story from this week in history...the museum's planetarium opened for the first time! It was on 22 May 1970. You can find out more about our fascinating free planetarium shows here.