Travelling to the Tibet border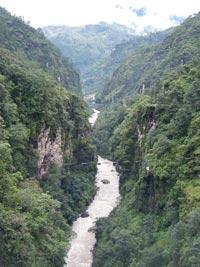 Last weekend marked the half way point of my time here in Kathmandu, Nepal. Not only was it my birthday, but it was also the school's mid-term break.
A group of us took a trip to a resort 12km from the Tibetan border, to blow away a few cobwebs and try to forget about Tibetan verbs for a few days. The drive was arduous, taking over 5 hours along roads that only just clung to the mountainsides. As we got closer to the border there were more and more landslides, many of which would have been completely blocking the road only a few hours before we arrived. We gave our driver several rounds of applause as he got us over yet another slide.
But once there we realised it was well worth it. The resort was made up of several tents covered with thatched roofs to protect us from the monsoon rains, and a fantastic view of a swollen river, perfect for white water rafting. While I'd just come to while away a few days reading and sighing at the incredible green mountains that surrounded us, others in the group walked the 12kms to catch a glimpse of the Tibet border. Alas security was pretty tight and the 'Friendship Bridge' between Nepal and Tibet was off limits.
Monday was our last day at the resort and a number of brave souls from my class decided to throw themselves off a bridge 160m above a monsoon-flooded river to try out Asia's highest bungee jump. Not for me I was content just to take the pictures!
So, after a few very relaxing days, I'm now back to school. I seem to have forgotten everything I learnt before the holiday, so working hard to memorize what seems to be an endless list of verbs and nouns.