Unicorn horns and walking sticks: a curious history of ivory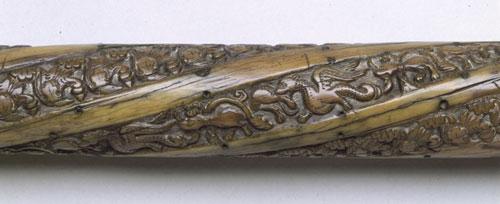 Close up detail of narwhal tusk Gina Muskett, former curator of Antiquities, here tells us about unicorn horns and the walking stick, and our ivories collection.
---
  One of my favourite parts of the antiquities collection is the group of carved European ivories and I'd like to share the stories of a couple with you.  An exceptionally rare and beautiful object is the tusk of a narwhal, an Arctic whale, carved in England in the 12th century AD and used as a candlestick in religious processions. The natural shape of the narwhal's tusk resembles that of the legendary unicorn, and in the past narwhal tusks were sold as genuine unicorn horns! The narwhal tusk has a fascinating recent history. A previous owner bought it in 1957 for £12 as one of a group of walking sticks at a sale in Hereford. Once recognized as a rare survival from pre-Reformation England, the narwhal tusk was sold at Christie's in 1994 but an export licence was withheld, giving the museum the opportunity to save it for the nation. Another favourite is a diptych, two hinged panels, showing Asclepius, the Roman god of healing, and his daughter Hygieia, who represents health. The panels were skillfully carved in Rome around AD 400 to 430. We can trace its more recent history as far back as AD 1500, when it was owned by the Gaddi family in Florence. It was then owned by various collectors in Italy and Hungary before being bought in 1855 by the Liverpool collector Joseph Mayer, who gave it to the then town of Liverpool in 1867. I've really enjoyed curating the ancient ivories at World Museum, learning about when and where they were made and who later owned them. The exciting news is that this part of the Antiquities collection is now online, so you can discover for yourself more about this fascinating and unique collection. All of the ivories in our collection are antiques. Trade in ivory was banned in 1989 by the United Nations Convention on International Trade in Endangered Species of Wild Fauna and Flora (CITES), to help protect endangered species, particularly elephants. See our
ivories collection
now.