Victorian Treasures showcases new William Holman Hunt acquisition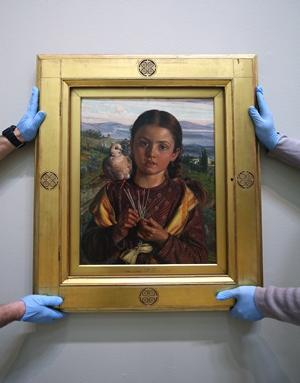 The painting is unwrapped for installation at the Walker Art Gallery's Victorian Treasures exhibition It's very rare for the
Lady Lever Art Gallery
to acquire a new work, as the gallery was built to house the incredible collection amassed by William Hesketh Lever, the 1st Viscount Leverhulme. However, it recently acquired a painting by
William Holman Hunt
, which was fitting for the gallery due to its connection to the Lever family. The painting,
Tuscan Girl
, can be seen at the Walker Art Gallery until 7 May as part of its
Victorian Treasures
exhibition. In 1931, the painting was sold by the executors of its then owner, John Francis Austen (a relative of the novelist Jane Austin) to William Hulme Lever, the 2nd Viscount Leverhulme. It hung in the French Drawing Room of his home at Thornton Manor on the Wirral. This made William Hulme Lever the second generation of his family to own works by Hunt. His father had purchased several works by the artists, including some of the Lady Lever's most-loved works,
May Morning on Magdalen Tower
and
The Scapegoat
. Hunt was born in Cheapside, London, the son of a warehouse manager.  He showed a talent for painting at an early age but his father discouraged this and instead had him employed as a clerk in the City by the age of fourteen. Despite the lack of support and encouragement, the young Hunt continued to paint finding some success with portraits. He applied to study art at the Royal Academy Schools and in 1844, on the third attempt, he was accepted. Hunt visited Florence in late 1868 or early 1869. He had set up a studio at the villa of William Blundell Spence (1814-1900), an Anglo-Italian painter, musician and art dealer. Spence lived in the Villa Medici, just below Fiesole.
Hunt painted Tuscan Girl and another work titled 'Caught' at the same time. The subjects were probably painted for their commercial appeal. They were also done to fill time whilst the artist completed a monument to his recently deceased wife, Fanny Waugh. The sitter for both paintings were the daughters of Spence's gardener. The young girl is shown plaiting straw. This was one of the major cottage industries of Florence; £300,000 worth of plaited straw was exported from Florence annually. As with all of Hunt's paintings the detail and colour are incredible. The composition of the work resembles some Italian Renaissance works with its half length body set against a Tuscan landscape. Hunt himself noted that the young girl had the 'type of gentle features peculiar to the cities of the Apennines, such as Perugino loved to picture'. Hunt would have been familiar with the works of Perugino in the Pitti Palace, Florence and in the National Gallery in London. Hunt also designed the gilt frame. William Holman Hunt was one of the founding members of the
Pre-Raphaelite Brotherhood
in 1848. A determined and resolute character, he followed the principle of 'truth to nature' throughout his artistic career. His powerful religious pictures brought him widespread recognition but his portraits are equally stunning. Tuscan Girl was accepted in lieu of Inheritance Tax by HM Government and allocated to the Lady Lever Art Gallery in 2014. Photographs © Gareth Jones