Volunteer researches the past for our future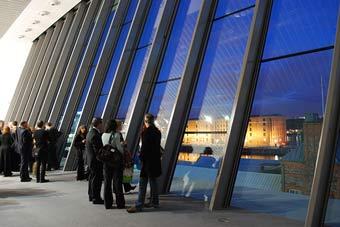 Jennifer is a volunteer working on the new Museum of Liverpool project and has recently achieved her v50 Award for completing more than 50 hours volunteer work.
Over to Jennifer, as she kindly tells us about her volunteer role….
"For the past year I have been volunteering on various projects for the new Museum of Liverpool. I am lucky enough to have been able to watch the museum progress from its initial building stages to the complete structure it is today. The projects I have worked on vary from helping to provide research and ideas for the City and Mersey Views galleries, collating data to inform and support a court reconstruction, and currently I am developing a power-point presentation about the Wirral to provide information for a multimedia station in Creative City. Doing this research has been very interesting, enabling me to learn things I hadn't expected about Liverpool and its past, as well as to help contribute to things for its future. I think volunteering is an invaluable experience to be part of and encourage everyone to get involved with their local museum as there really is something for everyone!"
A big thank you to Jennifer for all her hard work!
If you would like to find out more about youth volunteering and achieving a v50 Award please contact the Volunteers team.
You can also find out more about youth volunteering from 'v, the national young volunteers' service.