Volunteer spotlight: Andrew Richardson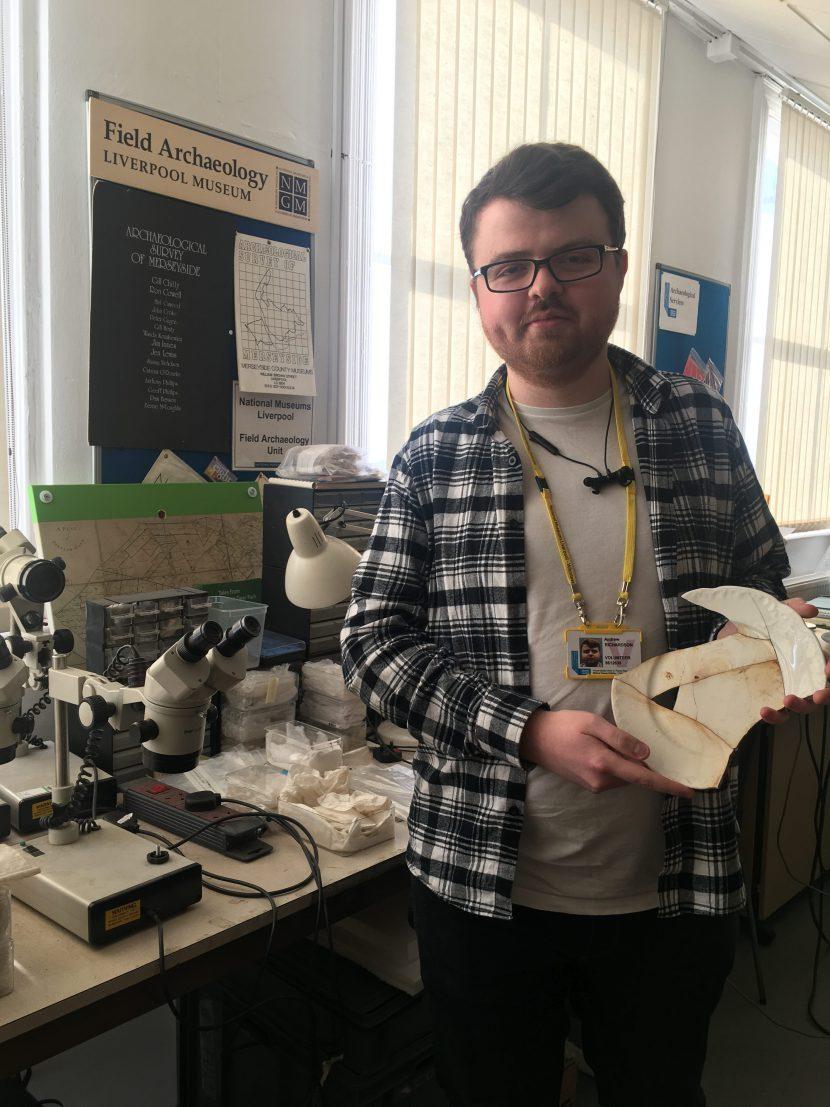 Volunteers are an integral part of National Museums Liverpool, and without them, important work would not be able to take place. As part of the Volunteer Spotlight series we will be meeting up with volunteers who have been making outstanding contributions to the organisation and finding out more about the work that they do. For this month's spotlight, I was able to make my way to the waterfront in the beautiful February sunshine (hopefully not too much of a distant memory by the time you read this) to meet Andrew Richardson, a Regional Archaeology volunteer who volunteers with Vanessa Oakden, Curator of Regional and Community Archaeology in National Museums Liverpool's Archaeology department.
Andrew has been a Visitor Assistant for four and a half years at National Museums Liverpool, first at the Merseyside Maritime Museum and now at the World Museum. He's always had an interest in history and has been encouraged to seek opportunities within museums since he was at school. Whilst working at National Museums Liverpool, Andrew has also been studying: first for his undergraduate degree in Building Surveying, then an MSc in Building Conservation and Adaption. Volunteering offers flexibility, which has allowed Andrew to combine education and his Visitor Services role. The two roles are quite different, as a Visitor Assistant, duties are often focused on the public: rather than the collections; by volunteering, Andrew has been given the opportunity to gain more experience in handling collections and how systems are managed, which then helps when you're trying to explain to the public how collections are accessed.
In addition to being able to offer advice about the current collections, Andrew is now confident in advising people about donating objects:
"as Visitor Assistants we often pass them [queries] on to curators and different people round the [different] sites, so it's interesting to see the kind of work those people do and it enables me to better advise people how the whole system works in National Museums Liverpool".
Andrew's role in the Regional Archaeology team is varied, he explained that one week he can be cataloguing objects and the next he is studying Roman coins! He has recently been cataloguing findings from the Oakes Street excavation and adding the details and classifications to a database. One of Andrew's highlights from the Oakes Street finds has been piecing back together the remnants of a ceramic plate; Andrew explained that even though it might sound dull, the process of gluing it back together correctly has been really satisfying.
Andrew was also part of a group who went to Lister Drive Library, to the Lister Steps project; Andrew was able to use the skills gained from his degree to help survey the building, including its graffiti. It's worth mentioning, that Andrew and the rest of the team were working on this in the snow! Now that's dedication.
"When I mention to people I volunteer in archaeology, I more often than not get asked for sneaky pictures of the Egyptian collections, I think people often hear archaeology and picture us all off in a desert somewhere digging for mummies and treasure and not in our own back gardens, it's often the 'Regional' part that gets missed."
For Andrew, volunteering has provided new learning opportunities and practical experience, he never imagined that he would be working with Roman coins, let alone learning how to spot a fake coin in the mix! As a volunteer, Andrew is able to see parts of the museums that the public wouldn't normally get to see.
When speaking with Vanessa, it's clear that volunteers are invaluable members of the Archaeology team, as they are able to get through more objects which they wouldn't normally be able to do; the team also has the chance to support the volunteers on projects that are varied and fun, reminding them why they got into the career in the first place. It's not just the staff team who are appreciative of the work that the volunteers are able to help them with, but Andrew is very grateful for the experience that Vanessa has provided him with. After mentioning to her that he wanted to go in to Building Recording, she has always remembered him and helped him to gain more experience in relevant projects.
Lead image: Volunteer Andrew Richardson with a regional archaeological find.